Ajose-Adeogun, first FCT minister dies at 96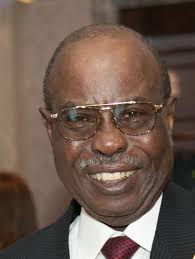 It has been confirmed that the first Federal Capital Territory (FCT) minister, Chief Mobolaji Ajose-Adeogun, is dead.
Ajose-Adeogun kicked the bucket at the age of 96. According to the report, he died on Saturday, July 1st, 2023.
A member of the family, Oluremi Ajose-Adeogun, confirmed his death in a statement she wrote on behalf of the family.
The statement partly reads, "The family of Chief Mobolaji Ajose-Adeogun has announced the passing away to the eternal glory of their patriarch, father, grandfather, and great-grandfather, Chief Mobolaji Ajose-Adeogun, FCIS, CON, JP.
"He was appointed as the Minister by the General Murtala Mohammed military government and was responsible for the Master Plan of Abuja during his time as the FCT minister.
"Before he was appointed as the FCT minister, Chief Mobolaji Ajose-Adeogun had served meritoriously as a two-term Federal Commissioner for Cooperatives and Supply in August 1975.
"He was later appointed as the Federal Commissioner for Special Duties, Federal Capital Development Authority," the statement said.
Ajose-Adeogun, until his death, was the chief of Ita-Aladan, Obun Eko, Isale Eko, Lagos.
The late business titan had a distinguished career at Shell Petroleum Development Company and also in Manufacturing and Real Estate.