Pele mentions unrecognised daughter in will, wife gets 30 percent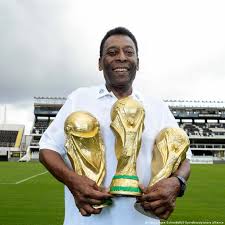 On Tuesday, March 7th, AFP reported that the widow of late football legend Pele will inherit 30 percent of his assets, according to his will.
The will also mentioned a woman who could be Pele's unrecognised daughter, the widow's lawyer disclosed.
The will states that Marcia Cibele Aoki, Pele's third and last wife, will inherit his mansion in Guaruja, a seaside resort town south of Sao Paulo, where the couple lived, according to her lawyer Luiz Kignel.
Other assets belonging to the Brazil champion, Pele, who died after battling cancer in late December at age 82, include more real estate and a stake in the Pele brand, Kignel said, adding that a complete inventory has yet to be made.
The remaining 70 percent is reserved for Pele's children, including an unrecognised daughter that he may have.
"He indicated the possibility of the existence of another daughter, whose recognition will depend on a DNA test, which could not be carried out (on Pele) due to the pandemic and the state of his health," said Kignel.
According to Kignel, the woman in question is a Brazilian national and she has taken legal steps to be recognized as Pele's daughter.
In September 2022, a court in São Paulo ordered Pele to submit to a DNA test, according to the G1 website. The test must now be performed on one of his seven recognized children.