40 African countries sign military deals with Russia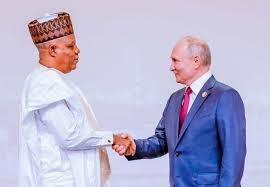 Over 40 African countries have signed military cooperation agreements.
The president of Russia, President Vladimir Putin, announced this on Friday in St Petersburg.
President Putin publicized this during the second and final day of the second Russia-Africa Summit.
He said, "We are developing partnerships in military and military-technical cooperation with more than 40 African states to strengthen the defense capabilities of the countries.
"African states received a wide range of weapons and technology, some for free.
"Some of these deliveries are provided on a gratuitous basis to enhance the security and sovereignty of the countries."
Representatives from African countries have been brought on to actively participate in Russia-organised military forums dealing with the technical aspects of the weapons and also manoeuvers to become familiar with the equipment and its use.
Putin also announced that Russia would assist the countries in their efforts to free themselves from the "vestiges of colonialism."
The Kremlin leader restated that Russia would continue to be a reliable supplier of grain to the continent's countries.