Ari said he doesn't regret announcing Binani as winner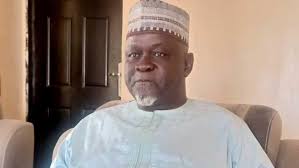 Adamawa State Resident Electoral Commissioner (REC) who was suspended, Hudu Yunusa-Ari, has said that he has no regret announcing Aisha 'Binani' Dahiru winner of the supplementary governorship election in the state.
"I didn't ask Binani and Fintiri for a single penny. It is against my religion to collect money from someone to help him do anything and I swear to God, claims that I was offered N2 billion are just baseless allegations and rumours," Yunusa-Ari said in an interview with BBC Hausa.
"Where will I take N2 billion to? I saw on social media that I was offered N2 billion.
"I don't regret announcing Binani winner of the election. Anything you do according to the law, you won't regret it."
Ari denied that he had never had any cause to go into hiding, adding that he will honour the invitation of the police.
He said he wrote a letter to INEC and disclosed to the electoral body that the police invitation had become mandatory for him to honour.
The REC stirred controversy after announcing All Progressives Congress (APC) candidate Binani as the winner when the collation of the results was yet to be completed.
The Independent National Electoral Commission (INEC) declared the announcement null and void and summoned Ari to its headquarters in Abuja.
INEC wrote to the Nigeria Police Force (NPF) to prosecute Ari.
President Muhammadu Buhari also approved the suspension of Ari pending the completion of an investigation by the police.
INEC said it has no information on Ari's whereabouts amid a probe by the police.