Bank of England increases interest rate; cost of living affected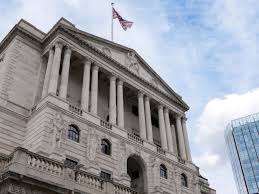 AFP
The Bank of England(BoE) on Thursday, May 11th, lifted its key interest rate by a quarter-point to 4.5 percent, the highest level in almost 15 years, as it bids to cool sky-high inflation.
The BoE voted for a 12th hike in a row, with UK inflation remaining stubbornly above 10 percent and fuelling a cost-of-living crisis.
Global policymakers are battling elevated inflation caused by runaway energy bills following the invasion of Ukraine by major oil and gas producer Russia.
The BoE warned there were "considerable uncertainties" over when inflation would return to its 2.0-percent target, citing "significant" upside risks.
"If there were to be evidence of more persistent pressures, then further tightening in monetary policy would be required," the BoE added.
But it said that it expected the UK economy to now swerve recession this year, adding there would be only a "small impact" from recent turmoil in the commercial banking sector.
The rate decision comes one week after UK Prime Minister Rishi Sunak's Conservative government suffered a drubbing in local elections, as voters gave their verdict over rampant living costs despite government efforts to partly subsidise energy bills.
The nation has been plagued by strikes as high inflation erodes the value of wages. Train staff will walkout again on Friday following months of industrial action across the private and public sectors.
– G7's highest inflation rate –
The latest BoE hike is set to deepen the crunch in living standards as retail banks pass on the increase, resulting in higher repayments on loans, including mortgages.
At the same time, those who can afford to save will benefit for increased fixed returns on investments.
Thursday's news took British borrowing costs to a level last seen in October 2008, before rates were slashed during the global financial crisis.
The BoE has ramped up borrowing costs from a record-low of 0.1 percent in December 2021.
The BoE announcement came one week after the European Central Bank and the Federal Reserve implemented quarter-point rate increases as inflationary pressures ease only slightly in the eurozone and the United States.
In Britain, annual inflation stood at 10.1 percent in March, touching the highest level in the Group of Seven richest nations.
Inflation worldwide has been dragged higher also by soaring food prices.
In the UK, Sunak and the BoE have urged employers against big pay hikes, arguing they jeopardise efforts to tame inflation.
BoE chief economist Huw Pill recently stated that Britons need "to accept that they're worse off and stop trying to maintain their real spending power by bidding up prices via higher wages".
Official data due Friday is expected to show the UK economy grew during the first quarter of this year after narrowly avoiding recession in the last three months of 2022.