Court orders Oxlaxe to pay N5m in damages for leaked sex tape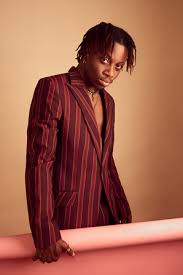 The judge of a Lagos State High court,Justice O. A. Oresanya, has awarded N5m damages against a singer, Ikuforijimi Abdulrahman popularly known as Oxlade, over a leaked explicit sex tape with a woman on a social media app, Snapchat.
The aforementioned sex tape of the singer went viral online on February 9th, 2022, and the artist later apologised to his fans for the video.
While delivering judgement on Tuesday, January 24th, 2023, the judge described the action of the singer in secretly recording the explicit sex and leaking the tape online as "despicable, horrendous, distasteful and classless."
The claimant in the suit, Blessing, had on March 15th, 2022, filed a suit before the court demanding N20m damages and a declaration that the respondent's (Oxlade) act of recording their sexual acts without her knowledge and consent amounted to contravention of enabling laws and a gross violation of her fundamental rights to dignity, privacy and freedom from discrimination guaranteed under sections 34 and 37 of the 1999 Constitution (as amended) and Articles 5 of the African Charter on Human and People's Rights (Ratification and Enforcement), Act, Cap. A9, LFN, 2004.
When the matter came up, the judge was ready for judgement when counsel for the claimant, E. T. Idemudia and O. S. Mabekoje, with U. R. Michael for the respondent, announced their appearance and both parties agreed to opt for amicable resolution via a consent judgement.
However, Justice Oresanya lambasted the singer.
"The action and attitude of the respondent (Oxlade), who is said to be a celebrity, is despicable, horrendous, distasteful and classless. The respondent is admonished strongly to act with utmost circumspection in his relationship with fellow humans, especially the opposite sex. What goes around comes around. I need not say more," the judge said.
Justice Oresanya also blamed Oxlade for treating the judicial process with disrespect and accused his lawyer of aiding him to desecrate the temple of justice.
The judge said, "The respondent failed to appear in this court and the only reason given for the respondent's absence by his erstwhile counsel was the celebrity status of the respondent, which to my mind cannot be equated to that of many notable celebrity artistes in this country who have comported themselves well respectively both within and outside of this country.
"Counsel, as ministers in the temple of justice, should never encourage any party to a lawsuit or client in treating the temple of justice with disrespect and disdain no matter the status of the client in the society."
The judge thereafter entered the terms of settlement dated January 11, 2023, as the judgement of the court.
"By the consent judgement, Oxlade is to pay damages to the tune of N5m to the claimant in two instalments of N2m and N3m respectively," Oresanya added.