DSS says Emefiele not in custody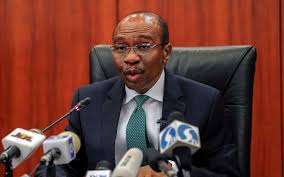 The Department of State Services (DSS) has denied having the suspended governor of the Central Bank of Nigeria (CBN), Godwin Emefiele, in its custody.
This was disclosed by the DSS on Saturday, June 10th, via the agency's Twitter account.
It had been reported earlier that President Bola Tinubu suspended Emefiele from office with immediate effect on Friday, directing him to immediately transfer control of his office's affairs to Folashodun Adebisi Shonubi, the Deputy Governor (Operations Directorate) of CBN.
According to a statement signed by Willie Bassey, the Secretary to the Federation's Director of Information, the president's suspension is a result of the ongoing investigation into his office and planned reforms in the financial sector of the economy.
Following the announcement of Emefiele's suspension, the purported arrest of Emefiele by the DSS was quickly circulated online.
However, the security agency, in a brief statement on Twitter, has debunked the news of Emefiele's detention in its custody.
The post read, "Currently, Emefiele is not with the DSS."