FG- Fashola announces opening of 2nd Niger Bridge
Fashola announces opening of 2nd Niger bridge and breakdowns some of the work done by the present administration in terms of road building and rehabilitation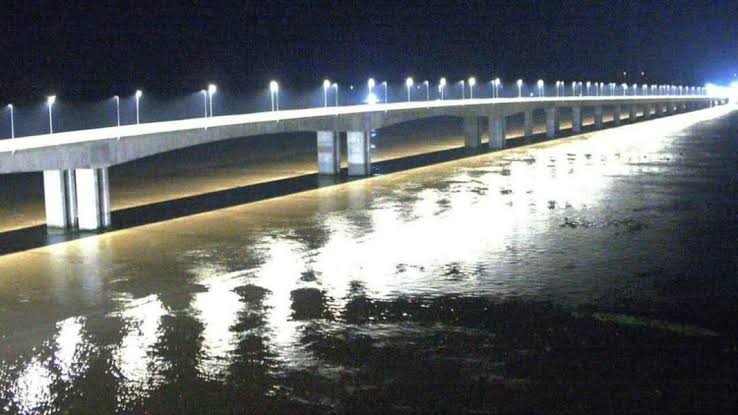 Precious Yusuf
It has been announced that the Federal Government plans to open the historic Second Niger Bridge to the public on or before Christmas this year.
This will put an end to years of endless wait to travel on that important infrastructure that was conceived many decades ago but left on the drawing board by the previous administration.
The Minister of Works and Housing, Mr. Babatunde Fashola, gave the announcement at a press conference to highlight the achievements of the Buhari administration in the areas of Works and Housing, which was attended by the Ministers of Information, Lai Mohammed and the Minister of Abuja,Muhammed Bello.
Fashola boasted that despite the shortage in the federal revenue arising from a depressed economy and drop in oil revenue, the government had been able to construct and complete at least 8,352.94 kilometres of roads and create no fewer than 339,955 jobs between 2016 and 2022 under the administration of the current president.
He also indicated that the rehabilitation of 12 major roads spanning 896.187 kilometres in the country within the same period had resulted in the reduction of travel time by 56.20 percent and added value to the people in the communities where the roads pass through.
Fashola said that the Buhari administration had come up with a number of initiatives to draw down funds for the construction of critical road infrastructure in the country, thereby ending the suffering of Nigerians on certain roads that were notorious for being in bad shape.
Among the initiatives, which the administration had introduced to facilitate infrastructure development were: the Presidential Infrastructure Development Fund(PIDF), Sukuk Fund, Road Infrastructure Tax Credit Scheme, Multilateral loans/grants and collaboration with other government agencies such as the NorthEast Development Commission.
He said the PIDF has assisted immensely in the construction of the rehabilitation, construction and expansion of Lagos-Shagamu-Ibadan Dual Carriageway Section I: (Lagos-Shagamu) in Lagos State, rehabilitation, construction and expansion of Lagos-Shagamu-Ibadan Dual Carriageway Section II: (Shagamu-Ibadan) in Oyo State, construction of main works including associated infrastructure for the 2nd Niger Bridge and the rehabilitation of Abuja-Kaduna-Zaria-Kano Dual Carriageway, Sections I, II & III.