Folarin lauds group's support for Tinubu, his governorship ambition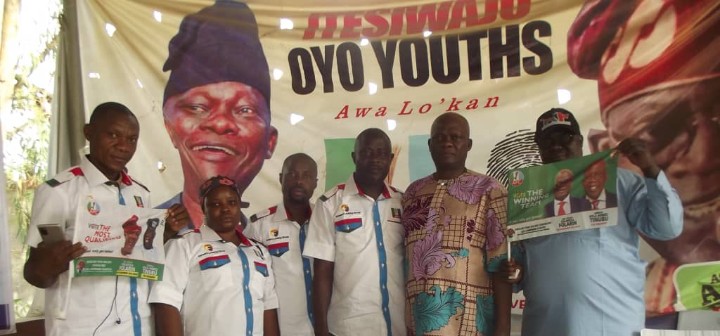 Teslim Folarin, governorship candidate of the All Progressives Congress (APC), in Oyo state has commended the contributions of the Forward-Looking Elites (FLE) toward the aspiration of Bola Tinubu and his gubernatorial ambition.
Folarin, a former senate leader spoke in Ibadan, the state capital on Sunday, some members of the group donated election campaign materials to Tinubu/Shettima presidential project and the Teslim Folarin governorship project.
FLE boosted Tinubu's presidential and Folarin's governorship bids with donations of election campaign materials which included billboards, mobile vehicular flagpoles, banners, posters, stickers, and Shirts with customised engraving among other items.
Folarin thanked FLE for identifying with him and Tinubu.
He spoke with joy that he was indeed happy with the vamping of contributions both Grassroot Mobilization and various campaign materials in support of his political aspiration and that of Tinubu to become the next elected Governor of Oyo State and President of Nigeria.
"This is a well commendable support you have done for our presidential and governorship projects. This is massive and I really appreciate it and I will forever cherish it," he said.
Folarin said there is a need to retool and overhaul the Oyo state infrastructure for employment generation and improvement of the standard of living of the citizens.
Owolabi Kolade also known as Owoblow, leader of the group, said FLE is supporting Tinubu's presidential and Folarin gubernatorial ambitions because it believed the two candidates have all it takes to run a government of peace, unity, and prosperity in Nigeria and Oyo state.
"So after our careful analytical appraisal of these candidates both at the National and State level, we are able to find a silver lining that it can only get better with these new Nation's handlers if they are voted into power as we have unequivocally aligned with for supports by Nigerians and Oyo State electorates," Kolade said.