G5 PDP: Ortom reveals that he is being blackmailed
G5 governors insists that PDP should put Nigerians first and insist on Ayu's resignation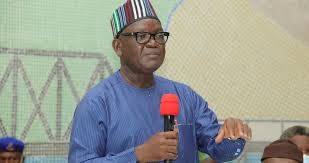 Any hope of the group of five governors (G5) of the leading opposition Peoples Democratic Party (PDP) reconciling with the party's presidential candidate, Atiku Abubakar, continues to appear bleak.
The group vowed yesterday to increase their attacks against Atiku for backing the National Chairman, Iyorchia Ayu.
"To hell with Atiku and any one supporting him," Benue State governor, Samuel Ortom, thundered in his opening remarks at the cocktail organised for the G5.
Members of the group, Nyesom Wike (Rivers), Seyi Makinde (Oyo), Okezie Ikpeazu (Abia) and Ifeanyi Ugwuanyi (Enugu) were hosted by Ortom ahead of the launch of governorship and legislative election campaigns.
Ortom said: "Some people are blackmailing me for calling on Ayu to resign. Yes, because I can't betray Governor Wike. He was the one who supported Ayu to emerge as the National Chairman. So, it would amount to betrayal if Ayu reneges on his promise and expects me to support him because he is a Benue man like me."
Ortom stressed that Wike who is leading the fight has no problem with Benue people and is only doing it for equity and justice. He said 18 people were killed in Guma Council last week by herdsmen trying to take over Benue land, yet some people want him to keep quiet.
"At 62, I am ready to die. I have written my will. God has been good to me. My age mates are long dead. So, nobody should blackmail me with my Senate run. Senate or no Senate, to hell with Atiku and anyone supporting him! They should go and tell him. You want me to be a slave to a Fulani. It is better I die. Anybody supporting Atiku is an enemy of Benue."
As part of their efforts to remove Ayu from occur, G5 also resolved to woo more aggrieved PDP members to their column from the six zones to give their onslaught a national outlook, and to mobilise to resist the 'divide and rule tactics' purportedly employed by Atiku to destabilise their state structures.
The five governors, yesterday, stormed the IBB Square in Makurdi, the Benue capital, for the commissioning of some projects completed by Ortom.
Ortom named a road leading to Ayu's house as Governor Nyesom Wike Road. The road, which is behind the Commissioner's Quarters in Makurdi, was inaugurated by former Benue governor, Gabriel Suswam.
Recall that the five governors have been consistent in their demand that Ayu steps down, saying Northerners should not be the party's national chairman and presidential candidate during the same period of time.
However, Ayu, a Benue indigene, has insisted that he won't step down till the end of his four-year tenure, even as the G5 press for his resignation as a precondition to support Adamawa-born Atiku's presidential ambition.
Nyesom Wike said that the PDP G5 are bonded to save Nigeria and nobody can break their ranks in their continued insistence that Ayu should resign.
"People have tried to see how they can break us, you cannot. We are bonded to save Nigeria. That is why when you see all of us, we are impenetrable. Nobody can divide us. They have tried everything in this world to divide us, but no way."
Ayu was conspicuously absent, though he sent the Deputy National Chairman (North), Umar Damagun, to represent him at the event.
It was also gathered that Damagun was not given any opportunity to speak to the crowd or deliver the National Chairman's message to those present.