Hilda Baci breaks World record; still setting new record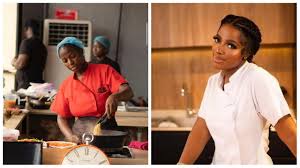 Nigerian chef, Hilda Effiong Bassey, popularly known as Hilda Baci, on Monday, May 15th, broke the Guinness World Record for the "longest cooking marathon by an individual".
The chef, on Monday morning, smashed the 87 hours 45 minutes record set by now-former Guinness World Record holder, Lata Tondon and continued on to set a new record of 96 hours.
Hilda launched into the competition on Thursday, May 11th at exactly 4pm when she put on her cooker.
The 27-year-old has continued to receive a wave of support from government officials, celebrities, clerics, and other well-meaning Nigerians.
A lot of Nigerians stood by her despite a heavy downpour in the wee hours of Monday and continued to show support for her physically and online as her activities in the kitchen are being broadcasted live on Instagram.