Ini Edo opens up on marriage, surrogacy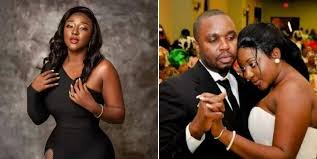 Nollywood veteran actress, Iniobong Edo, let out that her greatest regret was getting married in the first place.
In an interview with media personality, Chude Jideonwo, the actress opened up about her failed marriage.
Ini Edo said she had had second thoughts about getting married right from the beginning.
Recall that, on November 29th, 2008, Ini Edo married American-based businessman Philip Ehiagwina, but the marriage only lasted five years before they divorced in 2013.
The Nollywood actress revealed that the marriage was forced upon her by her family, saying she would only consider marriage with the right person.
She said, "I regretted my decision to get married because it wasn't just the right move to make."
In 2021, the actress welcomed a child via surrogacy, revealing that she chose that route due to miscarriages.
"I chose surrogacy because I had a couple of miscarriages. And I just got tired of trying.
"I don't have a husband. So, I'm like, I want a child for myself, whether I have a husband or not. So, what other options would I have? And I wanted it to be my child. My eggs. Thankfully, my eggs are good. So I did that."