IPoB exposes plans of people planning to attract banks in S'East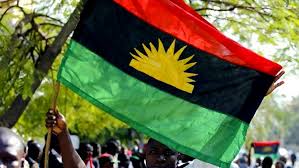 The Indigenous People of Biafra(IPoB) have said that they have no plan or plan to collide with persons who want to attack banks in the South East.
This was said on Saturday, February 18th, where IPoB alleged that there is a secret plan by criminals to attack banks in the South East hiding in the name of masses looking for the new currency, to blackmail them.
The Biafra agitating group put all these information in a statement released by its Media and Publicity Secretary, Emma Powerful, entitled "There is a secret plan to attack some banks in Biafra land to blackmail IPoB", declaring that it is not part of such an evil and heinous plan.
IPoB further stated that it uncovered the secret plan through its intelligence unit, the M-Branch, saying that the criminals also claim that they are disciples of its leader Mazi Nnamdi Kanu.
IPoB's statement read, "The global family and movement of the Indigenous People of Biafra, IPoB, under the command and leadership of Mazi Nnamdi Okwuchukwu Kanu, wish to disassociate ourselves from the secret plans to attack banks in Abia State or other State in Biafra in the name of masses looking for new currency notes."
"Our intelligence unit the M-Branch uncovered the plan by the criminals who are also claiming to be Mazi Nnamdi Kanu's disciples, when they are not, their plan is to invade banks in Abia State and rob the banks and blame it on IPoB and ESN operatives.
"We are putting the public on notice that IPoB is not part of the plan, and we don't encourage or indulge in criminal activities. In the event of an attack on any bank in the East, Biafrans should hold Autopiloters, who have branded themselves MNK disciples responsible because they have committed other criminal activities known to the public.
"Notwithstanding their criminal activities; we are going to checkmate them because they have decided to blackmail IPoB and ESN operatives with their criminal plans, an act we will not tolerate. We can not afford to be part of activities that will increase the pain and suffering of our people who we are fighting for their freedom.
"IPoB intelligence unit, the M-Branch released this Intelligence information in advance to advise our people to be prepared because they have devised another means to suffer them. The purported sit-at-home order which they declared on Saturday, February 18 failed; their contractors want them to change strategies that will also be dead on arrival.
"We made this Intelligence information public for our people to know that there is danger ahead and the danger will come in different ways against our innocent citizens but they should not panic as we are on course to tame them.
"We, therefore, call on all Biafrans to resist any attempt to be used by anyone to attack and destroy the banks in Igbo land. Mazi Nnamdi Kanu(MNK), has consistently warned our people that banks, worship centres, schools, and markets are not places to vent their anger any time, including times of protest or wars.
"Our people should know that any bank attacked or destroyed in Biafra land our enemies will use it to justify why our people will not be able to access their monies from banks. Other ethnic groups can protest and destroy banks without the Nigerian government punishing them, but in the case of Biafrans, particularly Igbos we are visited with wickedness and shedding of blood.
"Our people must therefore keep their emotions in check and realise that the issues of Biafra freedom are beyond emotions. We all need Biafra to come quickly, but we must be cautious not to play into the hands of our already wicked and frustrated enemies.
"Our people must be wise to follow instructions from IPoB. Therefore, no wise Biafran should support or join any attack on any bank in Biafra land, particularly at Aba, Abia State."