'King of the Ring 3': Tasif Khan Claims WBC Silver Title as Adijat Gbadamosi Makes History in Ghana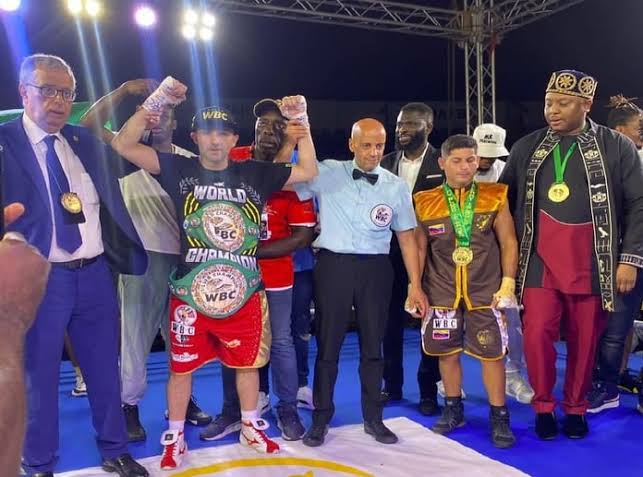 Tasif Khan and Adijat Gbadamosi emerged as the standout winners at the electrifying 'King of the Ring 3' event held at the Bukom Boxing Arena in Accra, Ghana.
Monarch Events and Promotions organised a thrilling night of international boxing, highlighted by the World Boxing Council (WBC) Silver Super Flyweight Championship bout.
In the highly anticipated main event, Bradford's own Tasif Khan (17-1-2, 9KOs), the reigning WBO Africa Super Flyweight champion, added another impressive accolade to his resume. Khan faced off against Venezuela's David Barreto (17-3-0, 16KOs) in a scheduled twelve-round bout.
Demonstrating his skill and power, Khan knocked out Barreto in the second round, securing victory. Barreto suffered a knockdown in the first round and was down twice in the second before the referee, Brahim Ait Aadi from Belgium, called off the fight.
The distinguished WBC Vice President and President of the Africa Boxing Union (ABU), Houcine Houichi, was present to officially crown Tasif Khan as the new WBC Silver Super Flyweight champion, acknowledging his remarkable achievement.
In a historic moment, Nigeria's Adijat 'Dija' Gbadamosi etched her name in the boxing annals as the first Nigerian woman to capture an African boxing title.
Gbadamosi, a youth Olympic Silver medalist in 2018, displayed her skills in a Super Bantamweight bout against Zimbabwe's Patience Mastara.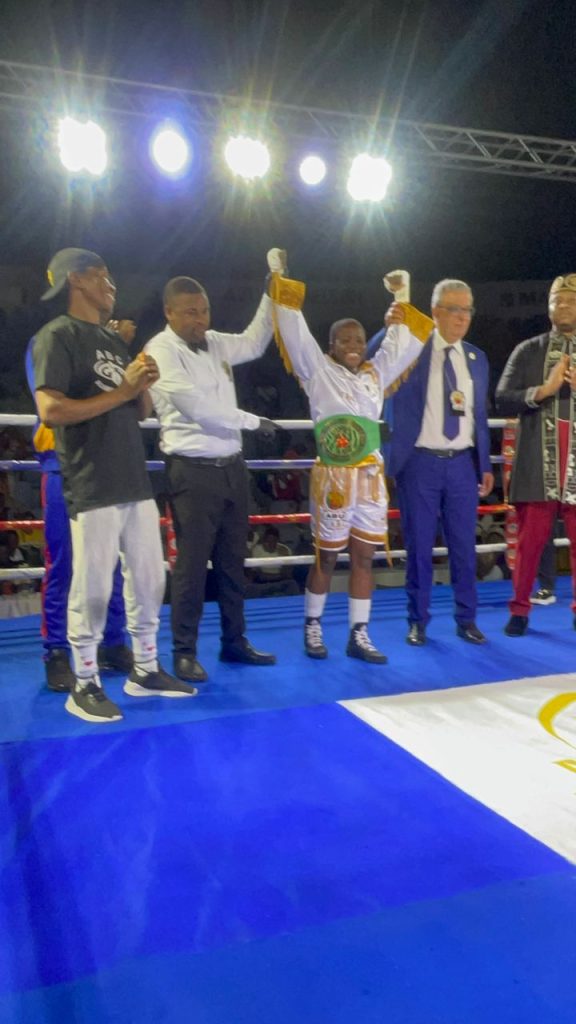 Gbadamosi secured a TKO victory in the fifth round of their scheduled ten-round clash, claiming the Africa Super Bantamweight female title.
The event showcased several other impressive matchups, with notable winners including:
Nigeria's Victor Beneth, who secured a unanimous decision victory over Ghana's Moses Kwaku in the Light Heavyweight category.
Beneth and Kwaku engaged in a fierce battle, offering spectators a classic Nigeria versus Ghana showdown. Their thrilling contest was recognized as the best bout of the night.
Ezra 'Nigerian King' Arenyeka, based in Manchester, delivered an explosive performance, securing a first-round TKO victory over Philibert Sodjinou from Benin Republic in the Super Middleweight division. The bout, scheduled for eight rounds, further solidified Arenyeka's unbeaten record of 11-0, with 9 knockouts.
Kazakhstan's Temirzhan Baimolda displayed his prowess in a Super Lightweight contest against Komlangan Hounkpatin from Togo. Baimolda emerged victorious via unanimous decision after eight rounds, improving his record to 5-0, with 3 knockouts.
Ghanaian fighters also showcased their talent, with Prince Oko Nartey (11-1, 10KOs) securing a technical knockout victory against fellow Ghanaian Felix Mankatah, who retired at the end of the third round of their scheduled eight-round bout.
Additionally, Isaac Commey claimed a TKO win against Kofi Ansah Raymond in a Super Welterweight contest, while Fosu Thompson triumphed with a knockout victory over Samuel Lartei Lartey in the Welterweight division.
Faisal Abubakari extended his unbeaten record to 14-0, with 12 knockouts, as he secured a TKO win against Enoch Lamptey in another Super Lightweight bout.
Adding to the excitement of the evening, renowned Ghanaian artist Stone Bwoy delivered an electrifying performance that left fans yearning for more. Nigerian acts Jumabee, B-Tone, and C-Prince also made a lasting impression, contributing to the vibrant atmosphere