Lagos PDP candidate gets Igbo communities endorsement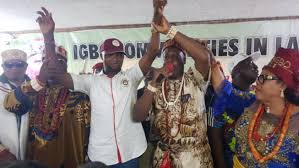 Barely over a week to the conduct of Governorship and House of Assembly elections, the Igbo Communities in Lagos State have endorsed the People's Democratic Party(PDP) candidate, Dr. Abdul-Azeez Adediran.
The endorsement was officially announced on Saturday, March 4th that the PDP candidate and his running mate, Ms Funke Akindele, has the support of the Igbo people in Lagos.
The News Agency of Nigeria (NAN) reports that leaders of Ndigbo declared their support for Adediran at an event tagged "the Igbo Communities in Lagos Official Endorsement of Dr Abdul-Azeez Adediran (aka Jandor)."
Eze David Nwosu, the Eze NdIgbo, Ikorodu North, who spoke on behalf of the Council of Ezes Ndigbo and the Igbo Communities in Lagos State at the endorsement in Oshodi-Isolo area, said the Igbos had declared support for Adediran.
Nwosu, who raised the hands of Adediran jointly with other Ezes in attendance, briefly said, " Ezes NdIgbo and Igbo communities in Lagos State endorse Jandor."
In response to the show of support, Adediran, who described his Governorship battle as the Lord's battle, expressed confidence that with the support of the people, the state would celebrate freedom by March 11th.
"This battle is beyond physical.By this time next week, all of us will be out of that government suppressing us. The battle before us is about coming out en masse to vote.
"When they (APC) are having godfather, Jandor holds on to God the Father, we will call on Him and believe that He will heed our cry.
"The days of APC in Lagos are numbered. Next week we will put an end to its existence in Lagos .Please, make no mistake."
"Put out the votes, I am ready to protect it. I am ready to deploy security both conventional and unconventional for next Saturday's elections," he said.
Adediran described what happened at February 25th Presidential elections where PDP lost as inconsequential, Adediran said that he was determined with the support of God and the people to win Lagos State.
"From May 29th, you will have a governor that understands that your coming into Lagos is to add to our prosperity.
"If anybody says today that Lagos is a rich state, it is because of your contributions in Alaba International Market, as well as in Ladipo, Aspanda, Trade Fair and other markets.
"We are the owners of this land. Everything that will bring prosperity, we will encourage it," he said.
According to him, Igbos should remain calm as he is poised about giving them a conducive environment for ease of doing business.
He promised to stop the difficulties associated with the NdIgbo businesses in the state while also pledging to run the government with them.
Adediran said that he had long been identifying with Ndigbos in the state, saying that the forthcoming election was for the freedom of residents of the state.
"Tell everybody that we are going to provide enough security both conventional and unconventional.
"We will be our own army, we will protect our votes and ourselves in this election," he added.
NAN reports that the event was attended by various Ndigbo groups and communities in the state.
Some of the Ezes that attended the town hall meeting include Eze Jude Nnaemeka Arinze ( Ezigbo of Oshodi Isolo), Eze Joseph Mba( Eze umu okorobia), Eze John C. Nwosu ( Ezigbo of Mushin), Arinze Jude Maureen( Eze ndigbo of Oshodi Isolo) and Eze Edwin Orji ( Ezigbo of Mainland).
(NAN)