Lagos State Last Team Standing trials get date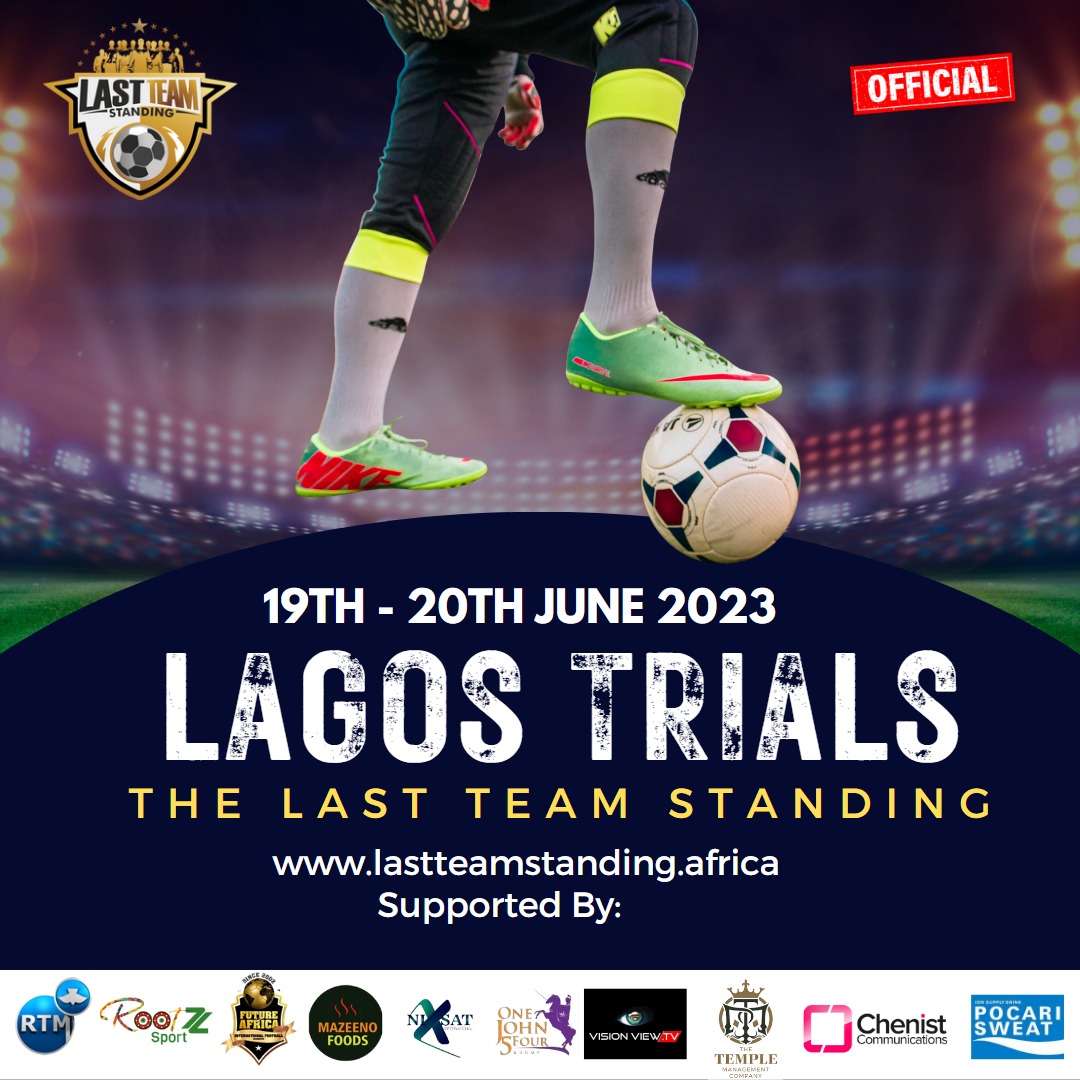 The date for the Lagos State Teams participating in the maiden edition of the Last Team Standing Reality Show trials gets date June 19th and 20th.
The maiden edition of the Last Team Standing trials which have its registration closed on the 31st of May had over 32 teams registered in Lagos alone and each team has 15 players.
The Last Team Standing Trial which will do its screening round state in Nigeria to have its final winners that will be put together in-house for another month come September 2023 had its first trial in Ogun State last weekend where players were scouted to join the winning team Raven FC as the duly representative of Ogun state when they are called to camp sometimes in September 2023.
The train of the Last Team Standing now moves to Lagos and the area where the trials will be conducted is in Surulere for two days 19th and 20th of June 2023 where teams will play against each other in a fair contest and players will also be picked to complete the list of players to be picked to represent Lagos State in Reality show coming up in September.
All the players registered and participating in the maiden edition of the Last Team Standing Trials are encouraged to pay a token of N2500 for what will be used to create a professional Players Profile that will be put on the website for our foreign scouting partners to scout players from.
This will also be a reference point to any scout or team that needs the services of such players in future.
Lagos State Trials will each group will be played simultaneously.
The Last Team Standing is a professional football Reality show that will showcase players from the grassroots between the age of 16 to 22 without a professional contract who want to see football as a career to the world.
The Last Team Standing teams will be going around Nigeria to fish out naturally talented players from the grassroots to the limelight and the train will heat the road in this proposed trail train.

A glance at the last set of trials states:
1. Ogun State – June 2nd and 3rd 2023.
2. Lagos State- June 19th and 20th 2023.
3. Oyo State- June 2023 (TBC)
4. Osun State- TBC
5. Ekiti State- TBC
6. Edo State – TBC
7. Delta State- TBC
8. Rivers State- TBC
9. Plateau State- TBC
10. Gombe State- TBC
11. Kano State- TBC
12. Kaduna State- TBC
13. Abuja – TBC
All Trails will be televised live on free-to-air and across edge all social media platforms, visit the website www.lastteamstanding.africa to get full details.