MC Oluomo's rally: Millions of supporters join the march
APC supporters troop out to show their support for the presidential candidate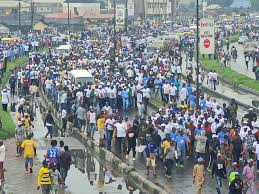 Precious Yusuf
The chairman of Lagos State Parks and Garages management committee, Musiliu Akinsanya popularly known as MC Oluomo, along with other supporters of the All Progressives Congress (APC) presidential candidate, Bola Tinubu, have defied the heavy rain to hold their five-million-man rally in Lagos State on Sunday,October 9th.
The march was slated to begin with a mammoth crowd at the Teslim Balogun Stadium and end at Oshodi.
The rally which had earlier been postponed and this was explained in a press statement released on Friday,October 8th. The statement revealed that the reason for the earlier postponement was due to logistical reasons and the number of persons expected.
The statement read, "This is going to be a mega rally, we are going to shut Lagos down for Asiwaju Tinubu and Sanwo-Olu. The reason why we postponed the rally initially, was because of some logistics and situations that were supposed to be put into proper perspectives which we have sorted out.''
There was a heavy presence of security operatives as serious traffic gridlocks were seen along Funsho Williams avenue, Yaba-Ikorodu road and other neighbouring communities of Surulere.
During the rally, two Fuji musicians, Sulaimon Adio, popularly known as Atawewe and Sulaimon Adekunle Alao popularly known as Malaika also joined millions of others to show their solidarity for Tinubu.
The Lagos State Police Command has said it has plans in place to secure the lives and property of citizens during the planned five-million-man rally to be held today.
It noted that it would make sure the rally did not result in violence as it would ensure that every Lagos resident was protected 'before, during, and after' the solidarity rally.