Military chiefs in West Africa commence talks on Niger Coup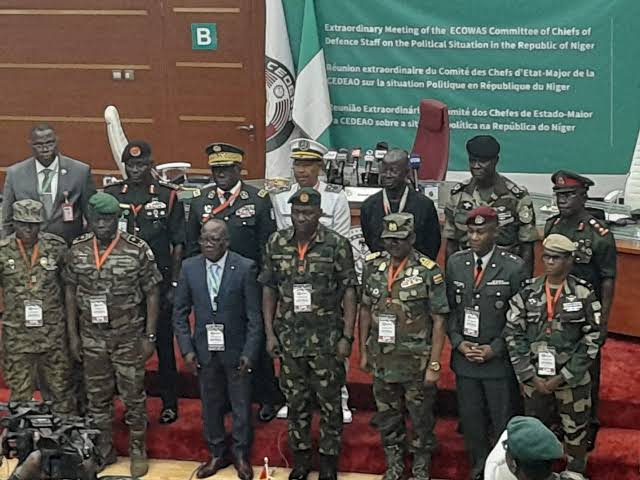 AFP
Alarmed by a string of military takeovers in the region, the Economic Community of West African States (ECOWAS) last week decided to activate a "standby force to restore constitutional order" in Niger.
ECOWAS is demanding coup leaders reinstate President Mohammed Bazoum after he was detained by guards on July 26, warning it could send in troops as a last resort.
"Democracy is what we stand for and it's what we encourage," Nigeria's chief of defense staff, General Christopher Gwabin Musa, told the meeting of the bloc in Accra.
"The focus of our gathering is not simply to react to events, but to proactively chart a course that results in peace and promotes stability."
ECOWAS troops have intervened in other regional crises since 1990, including in civil wars in Liberia and Sierra Leone.
Little detail has emerged over a potential Niger operation, other than expectations that Ivory Coast, Benin, and Nigeria would contribute troops.
Ambassador Abdel-Fatau Musah, commissioner for political affairs, peace, and security at the ECOWAS Commission, said the meeting would "fine tune" details in case the bloc "were to resort to the ultimate means of force."
The soldiers who have detained Bazoum said "the deteriorating security situation" prompted the coup.
They have threatened to charge him with treason, but also say they are open to negotiations.
The Accra meeting of the top ECOWAS commanders on Thursday and Friday comes after fresh violence in Niger, where jihadists killed at least 17 soldiers in an ambush.
Jihadist insurgencies have gripped Africa's Sahel region for more than a decade, breaking out in northern Mali in 2012 before spreading to neighboring Niger and Burkina Faso in 2015.
Those countries — all ECOWAS members — have since seen military takeovers, driven in part by mounting anger at government failures to stem the bloodshed.