Nigeria Flamingos beat US to secure first semi final position
Nigeria Flamingo qualify for first semifinal victory after beating US during Penalty kicks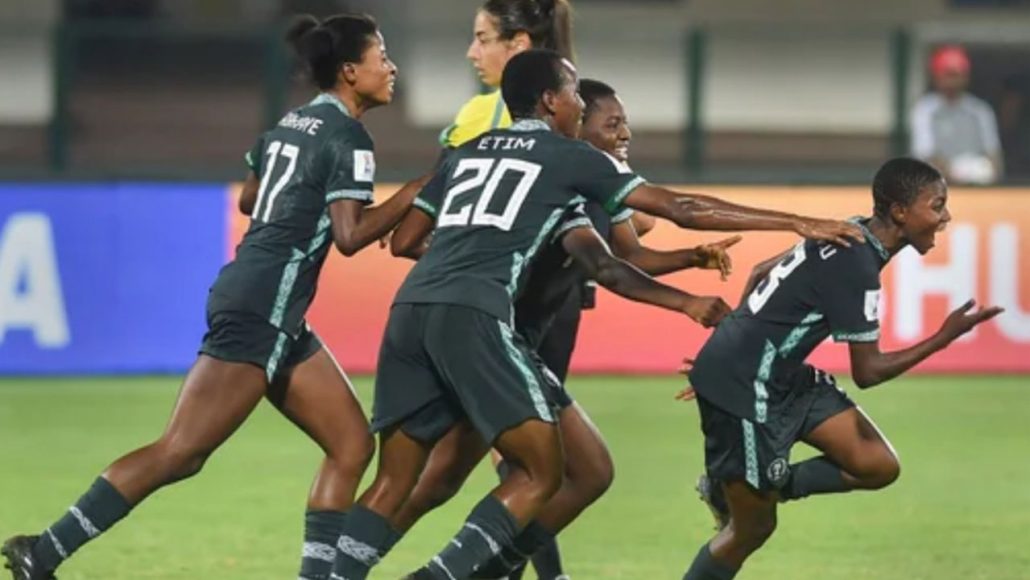 Nigeria's U-17 women's national team, the Flamingos proved bookmakers wrong yesterday as they defeated the pre-championship favourite, United States of America, in the quarterfinal of the ongoing India 2022 U-17 Women's World Cup.
The Flamingos delivered a 4-3 victory after the game went into penalty kicks when the game ended in a 1-1 draw at the end of the match. The win guaranteed Nigeria's position in the semi-final, the first time Nigeria would reach the last four in the competition.
It was the first quarterfinal match at the DY Patil Stadium in Navi Mumbai, but was delayed due to adverse weather conditions. The match was about to begin at 4:30 pm, but a loud clap of thunder during the national anthem of Nigeria made FIFA delay the kick-off.
The Flamingos took control of the match in the 27th minute when the Video Assistant Referee adjudged that Aminat Omowunmi Bello had been unfairly hacked in the box while Nigeria launched an onslaught. Immediately, Omamuzo Edafe scored from the spot.
The Americans, who were seeking a place in the last four for the first time in 14 years, were back on level terms 13 minutes later, after an unlucky Comfort Folorunsho diverted a fierce shot at the edge of the area past goalkeeper Faith Omilana.
All efforts by both teams to get more goals during the rest of the match proved unsuccessful. The Flamingos denied the Americans the chance to score any more goals by utilizing their stout defending up until six minutes to the end of the game when Miracle Usani heaved the ball away after Omilana, who had been teased out by Gamero Onyeka.
It went straight into penalties after 90 minutes and Edidiong Etim, Immaculata Offiong, Miracle Usani and Omamuzo Edafe scored for Nigeria, while defender Comfort Folorunsho missed as her kick went over the bar.
Her miss did not matter as America's Emri blew her kick wide and substitute goalkeeper Linda Jiwuaku saved from Bhutan to give Nigeria the day.
The victory somewhat recreated the events of 25th July 2010 in Augsburg, Germany, when the Nigeria U-20 girls defeated their USA counterparts 4-2 on a penalty shootout after a 1-1 draw in a FIFA U20 Women's World Cup quarter-final match.
With the ticket into the semifinal already secured, The Flamingos will now face the winner of the encounter between Colombia and Tanzania who will be fighting for a spot in the semifinals today.