Panic in Lagos as leaking gas tanker creates fear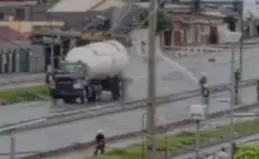 In the early hours of Saturday, residents and motorists along Ikorodu Road, by Stadium Road, Surulere area of Lagos State were thrown into panic by a leaking gas tanker.
The situation has created alarm in the area, resulting in traffic gridlock as motorists and residents scamper for safety.
Meanwhile, emergency responders have cordoned off the leaking gas tanker.
Director of Lagos Fire and Rescue Service, Margaret Adeseye, who confirmed the incident, said the situation was under control as the area had been cordoned off by the rescue team.
Men of the fire service, who raced to douse the tension were seen dampening the area to prevent any possible outbreak of fire.
The rescuers were seen trying to evacuate the leaking gas tanker, a video of which has gone viral on social media.