Real Housewives of Lagos season 2 premieres on Showmax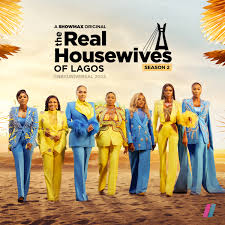 'The Real Housewives of Lagos' season 2 premiered on Friday, September 29th on Showmax, and promises fans more action amid a resounding ovation.
One of the new wives in the show is Faith Morey, a model. Other wives in the show
Include; an entrepreneur; Tania Omotayo, an entrepreneur, model, actress, and author; Iyabo Ojo, Toyin Lawani, Chioma Ikokwu, Laura Ikeji-Kanu, and Mariam Timmer.
The show probes into the lifestyles of some of Lagos's Most affluent and influential housewives, revealing their ambitions and personal triumphs.
Set against the backdrop of the vibrant and cosmopolitan city of Lagos, the show also reveals the housewives' extravagant lifestyle while navigating the intricacies of their high society circles. It's filled with suspense, intrigues, and flamboyance of some of the city's indefatigable housewives.
The actors are comfortable in their skins as they didn't leave any stone unturned in their bid to give their best shots this season. From Iyabo Ojo to Tannia Omotayo, and Toyin Lawani among others, this season of RHWL is nothing short of melodrama.
According to Dr. Busola Tejumola, Executive Head of Content, West Africa, MultiChoice Nigeria, the show would continue to showcase turbulence, drama, fashion, friendship, culture, lifestyle, and conversations that would keep the audience glued to their screens."Beyond the show's entertainment value, the real Housewives of Lagos cultural impact cannot be ignored.
"The show has put one of Africa's most important cities and its vibrant culture on the map. We are open to doing it again, even bigger and better.
Tejumola noted that MultiChoice was encouraged by the success of the first season of the show which had spurred the release of the second season.
She said the first episode of The Real Housewives of Lagos, season one, broke the first-day streaming record on Showmax Nigeria, adding that it was the only African title on the top ten most watched shows in Nigeria, Ghana, and South Africa.
Speaking further during a press screening of RHWL, in Lagos, last weekend, Tejumola said that season one won the award for the best costume designer in 2022 at the Africa Magic Viewers Choice Awards (AMVCA)."We decided to come up with this season following the massive success of the first season in 2022."Season one trended on X, formerly Twitter, and remains on the trend list for the 14-week duration of the show.
The season also trended as number one on X in South Africa and featured on the trend list in the United Kingdom."The Real Housewives of Lagos was the first West African installment of the global Real Housewives franchise which is distributed internationally by NBC Universal format," she said