Rotary Club of Ikeja Builds, Donates Multipurpose Sports Facility to Lagos School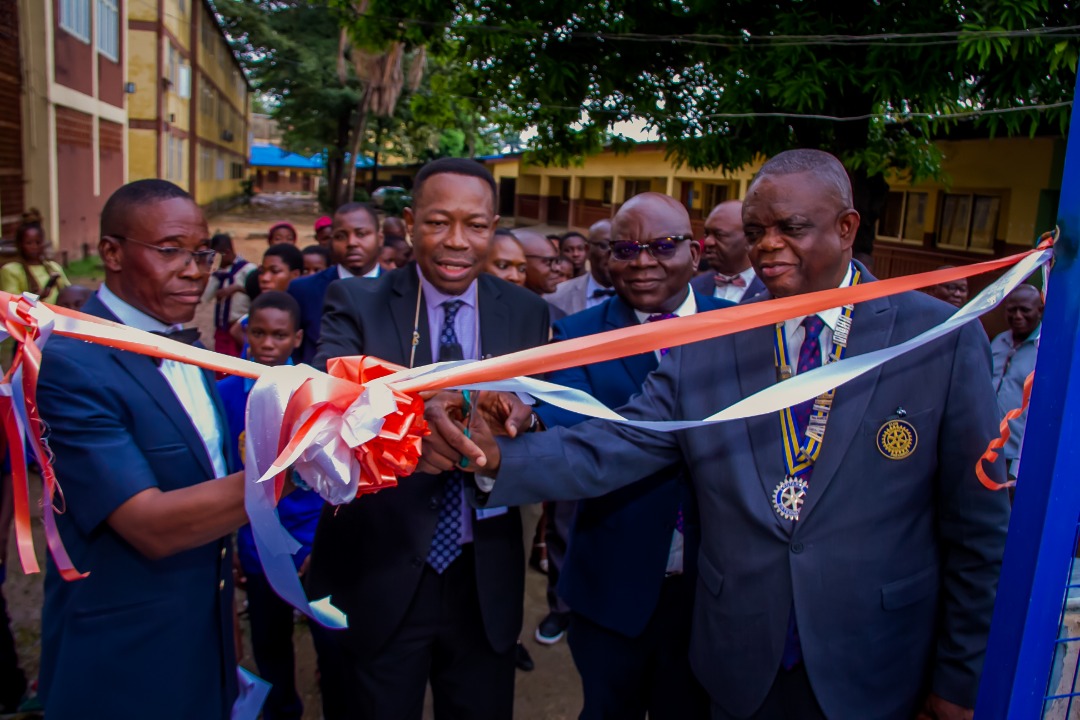 Rotary Club of Ikeja District 9110 has built and donated a Multipurpose Sports Facility to Ikeja Junior High School, Lagos.
According to a press release by the Club's Director of Public Image, Rotarian Segun Adebowale, the facility which was started by the Change Maker Board during the 2021/2022 Rotary Year is fit for some sports including Basketball, Volleyball and Badminton.
Commissioning the complex, Assistant Governor Tayo Laleye, who represented the District Governor District 9110 at the event described the complex as a unique one adding that it would afford the students and teachers the opportunity to display their sports prowess.
An elated school Principal, Ojo Olatunde said the students and staff members were excited and delighted to witness the historical commissioning of the sport facility by the club.
Olatunde added that: ''I believe it would have positive impact on both students and teachers in that, apart from developing students in area of sports, it would also make teaching and learning process easy and effective because teaching of physical and health subject would also be made practical.''
The club's Service Project Director, Osato Osawaye said he was fulfilled that the project had been completed adding that, '' It is a testimonial to the memory of late Col. Rotarian Jide Olayinka who started the project as the service project director. I feel a sense of fulfillment and glad we are continuing with the legacy of service to Ikeja Junior high school that the Rotary club of Ikeja had been doing over the years.
The Multi- purpose facility will afford children an all rounded education beyond the four walls of classrooms. Education is beyond traditional ethos but now affords children opportunities to excel in sports and other vocations.''
The Immediate Past President of the club, Gbenga Badejo who started the project said he felt happy, elated and fulfilled, noting that, ''With this step, truly no child will be left behind.
We have increased the capacity to produce more future champions in sports.''
Badejo added that. ''Education is one of the areas of focus of Rotary International. As we think Global and act local, STEM is the new focal point for capacity development through education. Bringing this home, Lagos State theme that no child should be left behind makes it imperative to look for how to use sports to broaden pupils' horizon.
"Sports have the capacity to harness youthful energy and put it to productive use. Pupils that are also not good in academics may find sports very appropriate to engage in. So, no child is left behind.''
The club's President, Sola Akinsiku said that the facility would offer opportunities for children and lovers of the relevant sports in the community to grow and develop their skills and talents.
Akinsiku concluded, '' I am profoundly excited and greatly delighted that the project has now been commissioned. It really gives me a great joy considering that Rotary Club of Ikeja has once again delivered on a project that has huge potential to make great impacts on the intended audience.''