Russia's Foreign Minister says West is bent on using Ukraine to defeat Moscow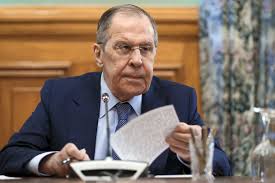 AFP
The war in Ukraine will not end until the West stops trying to defeat Moscow, Russian Foreign Minister, Sergei Lavrov, said in an interview with Indonesian media on Wednesday.
His comments came ahead of Ukrainian leader Volodymyr Zelensky's symbolic talks with NATO leaders at their summit in Lithuania on Wednesday.
In an interview with the Indonesian newspaper, Kompas, ahead of meetings with his Southeast Asian counterparts in Jakarta this week, Lavrov lambasted the United States and its allies for supporting Ukraine.
"It will continue until the West abandons its plans to maintain dominance and its obsession with inflicting a strategic defeat on Russia through the hands of its puppet, Kyiv," he said of the Ukraine conflict.
"There has been no sign of a change in their position and we are seeing how America and its accomplices are continuously pumping weapons into Ukraine and pushing (Zelensky) to continue fighting."
Lavrov is due to attend the East Asia Summit and ASEAN Regional Forum Foreign ministers' meetings on Friday with US Secretary of State Antony Blinken. The pair last met briefly in March at a G20 meeting in India.
Russian President Vladimir Putin launched the biggest attack on a European country since World War II when he ordered the invasion of Ukraine on February 24, 2022.
Since then, more than 150,000 people have been killed and wounded on both sides, according to Western estimates.
Turning to Indonesia, Lavrov praised what he called Jakarta's independent foreign policy on the conflict.
President Joko Widodo was the first Asian leader to visit both Moscow and Kyiv after the invasion began.
Lavrov said Western nations were "ignoring initiatives coming from developing countries" after Kyiv did not take up Widodo's offer to mediate or a controversial proposal from Indonesia's defense minister that referendums be held in the occupied parts of eastern Ukraine.
Western backers of Ukraine have sent weapons worth tens of billions of dollars to help it fight back against Russia's invasion.
NATO leaders vowed after the first day of their summit that "Ukraine's future is in NATO", and shortened the eventual process Kyiv would have to go through to enter the alliance.
But they did not offer a timeline on Ukraine's prospective membership, reflecting concerns in Washington about being dragged into a nuclear conflict with Russia.
In a bid to reassure Zelensky, G7 nations are expected to issue a declaration on how they will help Ukraine defeat Russia and deter any new aggression in the coming years.