Sanwo-Olu celebrates historic launch of Lagos Blue Rail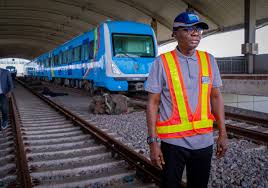 Almost two decades after the project started, the Lagos State Governor, Babajide Sanwo-Olu,on Wednesday, December 21st, celebrated the completion of infrastructure work on the first phase of the Lagos Blue Rail Mass Transit (LRMT).
At about 1:31pm, the Lagos governor formally stepped into the coach and took the first trip aboard the electric-powered rail infrastructure to commission it and open it for public use.
The governor led his Deputy, Dr. Obafemi Hamzat; Speaker, Lagos State House of Assembly, Mudashiru Obasa; members of the state cabinet, reporters and members of the public on a ride from the National Theatre Station to the iconic station in Marina. The trip took approximately 10 minutes.
Sanwo-Olu said the key milestone in development of LRMT is the end product of several impactful reforms in the transport ecosystem of Lagos State, starting in 1999, the dawn of the Fourth Republic, when Asiwaju Bola Ahmed Tinubu assumed office as the democratically elected governor of Lagos State.
He said that completion of the first phase is a strong testimony of the government's commitment to building on the legacies of past administrations and pioneering the vision of Tinubu.
The governor described the moment as "historic" in the making of Lagos become the first sub-national government in Africa to fund and deliver a rail system from the state's balance sheet.
He said construction of the second phase of the Blue Line rail project, which covers 14-kilometres from Mile 2 to Okokomaiko, will be launched immediately after completion and inauguration of the first phase in January so as to continue progress.
He noted: "The Tinubu administration developed the Strategic Transport Master Plan (STMP), which laid out the foundation for a network of robust and modern transport infrastructure befitting the 21st century city. The master plan has six rail lines and one monorail, 14 Bus Rapid Transit (BRT) corridors, over 20 water routes and a number of major new roads. Central to the implementation of the transport master plan is Lagos Metropolitan Area Transport Authority (LAMATA) established in 2002.
"Over the last two decades, that master plan has been faithfully implemented by successive administrations. Today, we are making history with the completion of the historic rail line, which is the first phase of the Blue Line.
"The road to the completion of this project, no doubt, has had an interesting story of delays, which were not due to a lack of enthusiasm or commitment on the part of the state government. "Now, we have put the challenges behind us; from now on, we will focus on the benefits of this project for our people."
In his goodwill message, the Commissioner for Transportation, Dr. Frederic Oladeinde, noted that the launch of the completed first phase is a confirmation of Sanwo-Olu's expounded vision for public transportation.
He said: "Mr. Governor, I want to say thank you for sticking to your promise to Lagosians that the infrastructure for the first phase of the Lagos Rail mass Transit Blue Line rail (Marina – Mile 2) would be completed in the last quarter of this year. Lagosians now trust you that you are a man of integrity, and that is why they have asked you to continue the good job in 2023 and beyond."