Tinubu emerges winner of 2023 presidential election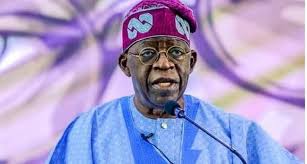 The Independent National Electoral Commission(INEC) has announced the All Progressives Congress(APC) presidential candidate, Bola Ahmed Tinubu, as the winner of the 2023 presidential election.
Tinubu, a former Lagos State governor, was declared the president-elect after the 70-year-old polled 8,794,726 votes.
The INEC Chairman, Professor Mahmood Yakubu, announced Tinubu as the winner at the International Collation Centre in Abuja during the early hours of Wednesday, March 1st.
Tinubu won the election ahead of other contenders-the Peoples Democratic Party(PDP) candidate, Atiku Abubakar; the Labour Party(LP) candidate, Peter Obi; and the New Nigeria Peoples Party(NNPP) candidate, Rabiu Kwankwaso.
The three leading presidential candidates won in 12 states each while Kwankwaso was only able to claim Kano State.
Tinubu edged Atiku, a former vice president and his closest challenger, with no fewer than 1.8 million votes.
The 2023 presidential election is the first time that Tinubu contested for the nation's top job and he clinched it, not without a fight from the other contenders.
The former senator left office as a two-term governor of Lagos State in 2007 and is credited with leading the coalition that ousted the PDP from power in 2015 and has extended his influence beyond the South-West region in recent years.
Aside from Tinubu; Obi; Atiku, and Kwankwaso, other candidates that gunned for the nation's oval office include Dumebi Kachikwu of the African Democratic Congress(ADC); Kola Abiola, People's Redemption Party(PRP); Omoyele Sowore, Africa Action Congress(AAC); Adewole Adebayo, Social Democratic Party(SDP); Malik Ado-Ibrahim, Young Progressive Party(YPP); Prof Christopher Imumulen, Accord Party(A); Prof Peter Umeadi, All Progressives Grand Alliance(APGA); and Yusuf Mamman Dan Talle, Allied Peoples Movement(APM).
The list also includes Hamza Al-Mustapha, Action Alliance(AA); Sani Yusuf, Action Democratic Party(ADP); Nnnadi Osita, Action Peoples Party(APP); Oluwafemi Adenuga, Boot Party(BP); Osakwe Felix Johnson, National Rescue Movement(NRM); and Nwanyanwu Daniel Daberechukwu, Zenith Labour Party(ZLP).
A tally of the votes announced by electoral officials from the 36 states and the Federal Capital Territory, Tinubu, in Borno, polled 252,282 votes across the 27 local government areas and was declared the winner by the state Collation Officer, Prof. Jude Rabo.
Atiku and Obi could only garner 190,921 votes and 7,205, respectively while Kwankwaso amassed 4,626 votes.
In Rivers State, Tinubu raked in 231,591 votes from 23 LGAs while the LP scored 175, 071 votes and the PDP polled 88, 468 votes.
The Federal Capital Territory(FCT), however, was the game changer that the Labour Party needed as they were able to floor both Tinubu and his PDP counterpart there.
Obi's popularity in Abuja fetched him 281,717 votes while the former Lagos governor and the former VP shared the remaining slots of 90,902 votes and 74,149 respectively. Kwankwaso also polled 4,517 votes.
But Tinubu made up for his losses in some northern and middle belt states which included Zamfara, Kwara, Kogi, Benue and Kogi States.
In Benue, the APC amassed 310,468 votes to relegate LP (308,372), PDP (130,081) and NNPP (4,740) to second, third and fourth places.
In Zamfara State, he polled 298,396 votes against LP's 1,660; NNPP's 4,044 and the PDP's 193,978 votes.
As expected, Obi soared above other candidates in Plateau where he won by 466,272 votes compared to APC's 307,195; PDP's 243,808 while NNPP settled for 8,869 votes.
The states won by Tinubu so far include Ogun, Oyo, Ondo, Kwara, Ekiti, Kogi, Benue, Zamfara and Jigawa, while Atiku emerged victorious in Bauchi, Yobe, Gombe, Kaduna, Kebbi, Bayelsa, Adamawa and Akwa Ibom.
On the other hand, Obi has won Lagos, Enugu, Cross River, Nasarawa, Imo, Anambra, Abia, Delta and Plateau states as well as the FCT.
In the final computation, APC polled 8,794,726 votes, PDP amassed 6,984,520 votes, LP scored 6,101,533 votes and NNPP garnered 1,496,687 votes.
Declaring Tinubu as the winner, the INEC boss said, "That Tinubu Bola Ahmed of the APC, having satisfied the requirements of the law is hereby declared the winner and returned elected."