Tinubu set to address Nigerians today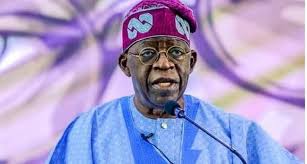 The President of Nigeria, Bola Tinubu, is set to address Nigerians on Monday (today) at 7 pm.
The President's Special Adviser on Strategy, Communication, and Special Duties, Dele Alake, disclosed this in a statement sent out on Monday morning.
"President Bola Ahmed Tinubu will broadcast to the nation on Monday, July 31, 2023, at 7 pm.
"Television, radio stations, and other electronic media outlets are enjoined to hook up to the network services of the Nigerian Television Authority and Radio Nigeria for the broadcast," the statement read.
Though the reason for the broadcast was not revealed, the broadcast may not be unconnected to the removal of subsidy on Premium Motor Spirit(PMS), known better as petrol, and its accompanying effect on the cost of living of Nigerians.
Following the ensuing hardship after the removal of the subsidy, the Nigeria Labour Congress(NLC) last week said Nigerians lost their peace of mind following the "Subsidy is gone" comment made by Tinubu during his May 29, 2023, inauguration.
The labour congress in a statement jointly signed by its National President, Joe Ajaero, and Secretary-General, Emmanuel Ugboaja, in Abuja, knocked the Tinubu administration over its "unfriendly" policies while adding that the administration had continued to treat Nigerians as slaves.
Reports earlier today reported that the NLC had begun mass mobilization ahead of its planned nationwide strike scheduled to begin Wednesday to protest the hardship occasioned by the fuel subsidy removal.
In a schedule obtained by the press on Sunday, the NLC urged Nigerians to "join us at the Unity Fountain, Abuja on Wednesday, August 2, 2023, at 7 am."
"There is nowhere in the world where the government leaves its citizens totally to the vagaries of the market without some measure of control and protection. The Federal Government should immediately deal decisively with the criminal content of subsidy instead of exposing ordinary citizens to avoidable pain and hardship.
"As a matter of national importance, it is imperative to fix all our refineries to be able to cater to domestic fuel consumption," the NLC said.