UN Secretary General says it won't leave Sudan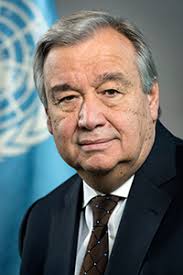 …warns conflict might engulf whole region 
The United Nations(UN) secretary-general, Antonio Guterres, warned on Monday, April 24th, that the violence between warring parties in Sudan "could engulf the whole region and beyond."
Guterres told a meeting of the UN Security Council on multilateralism that the situation in Sudan "continues to worsen."
At least 427 people have been killed and almost 4,000 wounded in ten days of fighting between forces loyal to two rival generals.
"The violence must stop. It risks a catastrophic conflagration within Sudan that could engulf the whole region and beyond," he said.
Guterres added that he was "in constant contact with the parties to the conflict and have called on them to de-escalate tensions and to return to the negotiating table."
"We must all do everything within our power to pull Sudan back from the edge of the abyss," he said, repeating his call for a ceasefire.
His comments came after the UN said its head of mission Volker Perthes will remain in Sudan despite a mass exodus of foreigners.
"Let me be clear: the United Nations is not leaving Sudan," Guterres said, adding that the world body was "reconfiguring our presence in Sudan to enable us to continue supporting the Sudanese people."
"Our commitment is to the Sudanese people, in support of their wishes for a peaceful and secure future. We stand with them at this terrible time," he said.
Britain has requested an emergency meeting of the Security Council on Sudan, which is expected to take place on Tuesday, according to a diplomat.
AFP