Wike not fit to commandeer APC structures- River State Chapter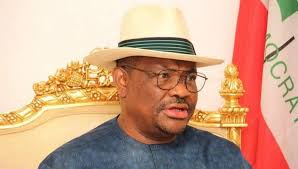 President Bola Tinubu has been called on by the Rivers State Chapter of the All Progressives Congress(APC) not to give in to the antics of the former governor, Nyisom Wike, to hijack the party in the state.
The party said recognizing Wike would undermine the loyalty of party members, who had kept faith with the APC.
In an open letter to President Tinubu, dated 6th July, and sighted by newsmen in the State House, Abuja, Friday, the Rivers state branch of the APC also called on the President to reject former governor Wike's overtures to stealthily foist himself on the party to take control of its structures in the state.
The letter signed by its Publicity Secretary, Comrade Darlington Nwauju, warned President Tinubu to be wary of Wike and his cohorts, saying the former governor's claims of working to favor the party now will only undermine loyal and dedicated APC members and other stakeholders.
The party said, "We wish to clear the air that Gov Wike did not deliver any value to our dear Rivers State APC. Mr. President Sir, we wish to recall that during the 2015 presidential election, APC members in Rivers State and their families faced unquantifiable brutality with countless casualties. Yet the Rivers APC resisted the onslaught of former Governor Wike-led aggression on innocent party followers and members.
"Dear Mr. President, we wish to clear the air that Gov. Wike did not deliver any value to our dear Rivers State APC, rather he fought against our dear Rivers APC."
The chapter urged Tinubu as a consistent party man who built his ideals of party growth and sustainability on practical people-oriented philosophy, and a known rewarder of stewardship, to resist former Governor Wike "because he has no political ideology as a script which he follows."
"We know that your leadership will not allow those who believe in political thuggery, those known by the local and international community as perpetual abusers of our democratic stability and mischief markers, to hijack our dear Rivers APC because they now see party politics as a tradeable commodity," the Rivers APC said.