Winners Shine at SystemSpecs Children's Day Essay Competition Award Ceremony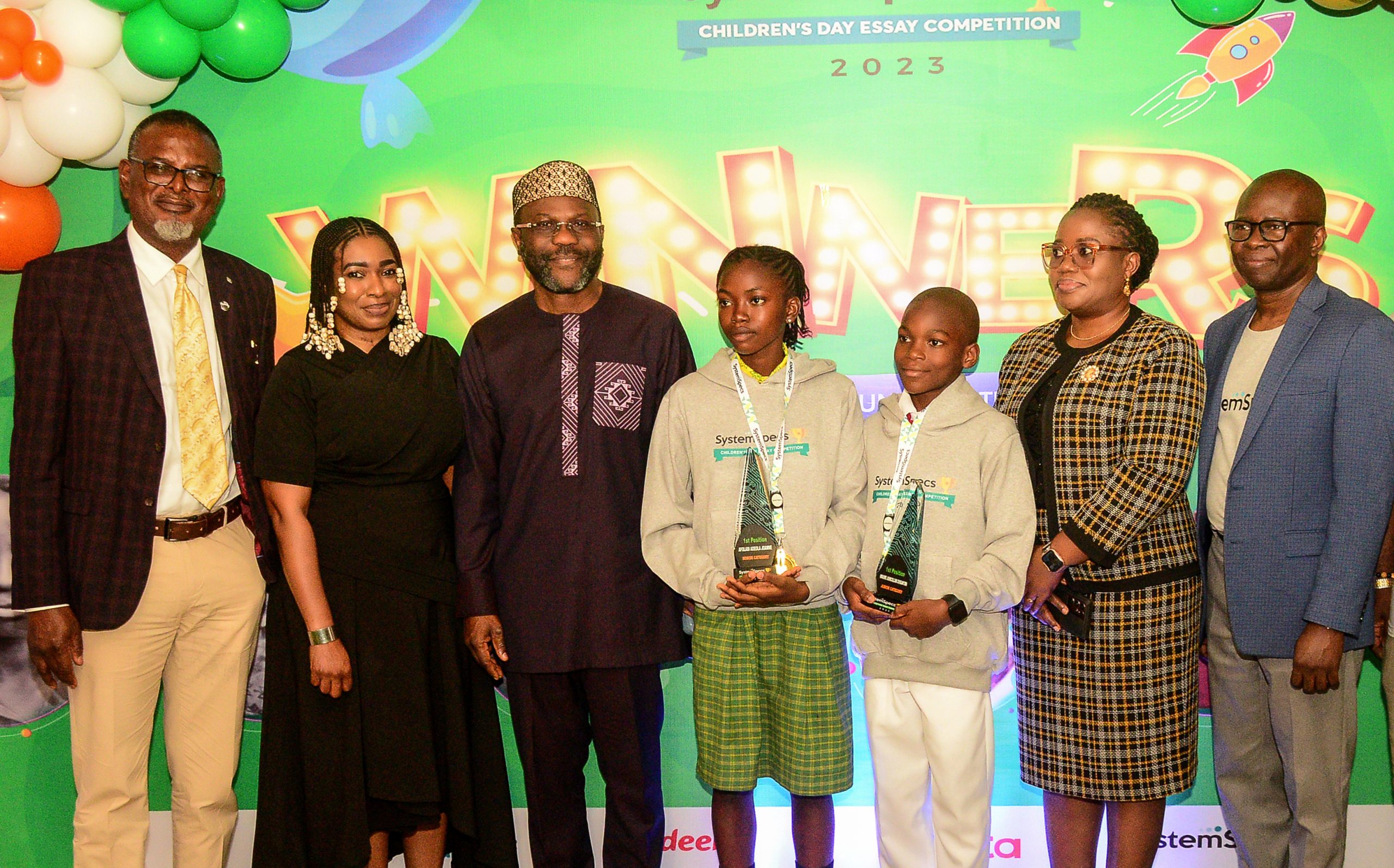 Youngsters who shone brightest in the 2023 SystemSpecs Children's Day Essay Competition (CDEC) were honoured at a National Winners' Award Ceremony held recently in Lagos, Nigeria.
The ceremony also recognised the winning schools and the State, showcasing their remarkable achievements and promoting the significance of intellectual brilliance and academic excellence among children.
Uwakwe Johncollins Chikanyima of Sacred Heart Seminary, Rivers State, and Afolabi Adeola Joanne of Bishop Howells Memorial Grammar School, Lagos State, emerged winners of the 2023 SystemSpecs CDEC in the junior category and senior category respectively.
About 3,000 entries were received from children between the ages 9 and 16 from all the regions of the federation and the FCT, while they shared mind-blowing technology innovations on the topic "Making Nigerian Children Better Citizens Through the Use of Technology".
In the junior category, Ifelaja Elliot of Masterhills School, Ogun State, and Onile Jomiloju Ayoade of Eternal Excellency College, Oyo State, won the second and third prizes. At the same time, Madu-Nwaigwe Henry of White of Pearl International School, FCT-Abuja, and Dioha Adaeze Margaret of Grundtvig International Secondary School, Anambra State, came second and third in the senior category, respectively.
In addition, Lagos State emerged as the Winning State among other States across Nigeria that participated in the Competition. This award is reserved only for the State with the highest number of public schools in the top 100. The State produced eight (8) out of the twenty-one (21) public schools that came tops in the Competition.
The other public schools within the top 100 were spread across various States in Nigeria, including Ekiti State (1), Enugu State (1), Anambra State (2), Cross River State (1), FCT-Abuja (4), Ogun State (3) and Oyo State (1).
Among the public schools from Lagos that featured in the top 100 are Local Government Primary School, Ladaba, Epe; State Junior High School, Alimosho; State Senior High School, Oyewole Agege; Command Day Secondary School, Oshodi; Lagos City Senior College, Sabo Yaba; Sito Gbethrome Junior Secondary School, Badagry; Vetland Senior Grammar School, Agege; and Surulere Girls Senior Secondary School, Surulere.
In a remarkable display of commitment, SystemSpecs, Nigeria's largest software technology group with over 30 years of experience, successfully organised the fourth National Children's Day Essay Competition. This stands as a testament to the organisation's unwavering dedication to nurturing indigenous technology capacity through structured Corporate Social Responsibility (CSR) initiatives.
"It's a dream in the making, helping young Nigerians to recognise early that they have got a role to play in nation-building. Today, we are celebrating another set of Nigerians who have demonstrated excellence, discipline and rigour, allowing their mind to be expanded in what is possible in terms of citizenship, capacity-building and more importantly having a vision that they can do a lot more," said Deremi Atanda, Managing Director, Remita Payment Services Limited (RPSL).
The first position winner in each category got a high-capacity laptop, laptop table, topnotch headphones, smart wristwatch, 120 gigabytes of internet data for one year, a unique keepsake hoodie, a school bag, and more. The second and third-place winners in each category also received a high-capacity laptop, 60 gigabytes of internet data for one year, a branded hoodie, a thermal flask, a school bag, and more. Some select public libraries within Lagos State shall be equipped with ten (10) laptops representing the winning prize for this category.
Group Head, Corporate Services at SystemSpecs, Oluwasegun Adesanya, said the Company's annual Children's Day Essay Competition is one of its CSR initiatives aimed at developing indigenous technology capacity.
Adesanya said, "We are amazed by the quality of essays we received from this year's participants. The entries proffered proven technology solutions that can groom Nigerian children to be better citizens. We have identified the outstanding submissions and will ensure that the relevant stakeholders required to bring these ideas into fruition are carried along."
Winners of the 2023 SystemSpecs Children's Day Essay Competition were announced on Monday, 29 May, 2023, while the awards ceremony held on Friday, June 9, 2023. Total number of essays received were 2,895. The junior category garnered 1,407 entries and senior category 1,488. Participating schools were 1,086 across the 6 geopolitical zones and FCT-Abuja. This represents 43 per cent increase from last year.
After the plagiarism and AI checks, eligible entries came down to 2,095 from 861 schools. The number of participations from public schools in the 2023 competition grew to 864 representing 30 per cent (compared to the 26 per cent in 2022) of the number of schools that participated. 21 public schools also featured in the top 100 schools.
This year, Al Iman Secondary School, Taraba, produced five (5) entries (the highest) number of entries in the top 100, followed by Grundtvig International Secondary School, Anambra State, which produced four (4) entries in the top 100.
During the announcement event, one of the judges, Prof. Babatunde Lawal, a senior lecturer at McPherson University, speaking on the evaluation process, stated that the process was bias-free as all entries were judged without the identities of the participants and in multiple assessments stages, which led to shortlisting the winners as solely determined by the panel of judges.
"The quality of essays received is a testament that Nigerian children are exceptional, innovative, and forward-thinking in proffering solutions to national issues. It further reveals that many Nigerian children are technologically aware and should be encouraged to explore new inventions to be at par with their counterparts around the globe. I commend SystemSpecs for this amazing initiative and believe its outcome will be adopted in policies and national decision-making," said Prof. Lawal.
For over 30 years, SystemSpecs has provided innovative technology solutions and services through its companies to customers in Nigeria and beyond Africa. Some of the companies under the Group include RPSL, HumanManager Limited (HML), SystemSpecs Technology Services Limited (STSL), and SystemSpecs Deelaa Limited.