World Athletics Championship includes Amusan's name in provisional list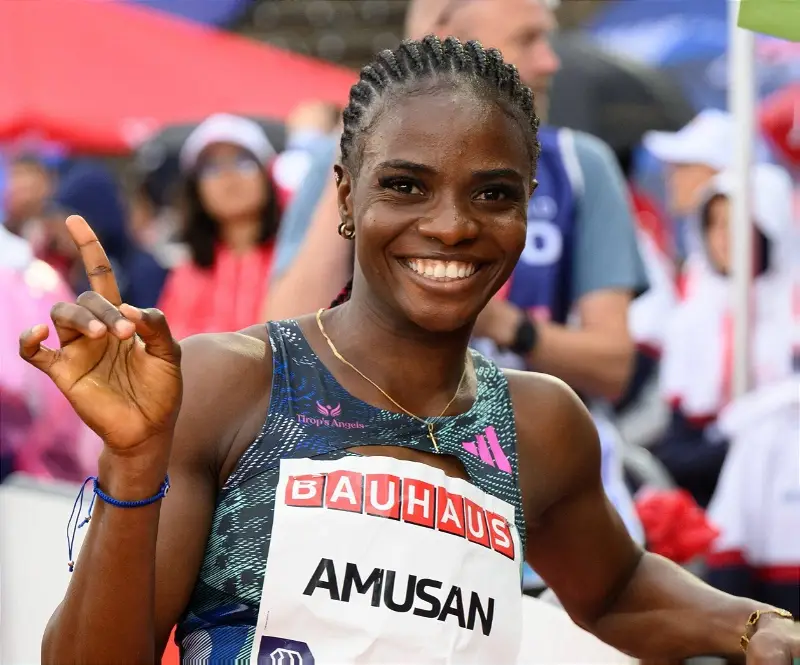 …awaits AIU defense
Tobi Amusan has made the provisional list for the 2023 World Athletics Championships pending the result of her Athletics Integrity Unit(AIU) defense.
The World Women's 100m hurdles champion and record holder, Amusan, has been included in the official provisional list though she is fighting an anti-doping charge.
The 2023 World Athletics Championships is set to be held from August 19th to 27th in Budapest, Hungary.
Amusan was also provisionally suspended by the Athletics Integrity Unit for missing three drug tests this season, barely a month before the championships. Her participation chances have been dim since then.
Her name was also conspicuously missing from Team Nigeria's list of 26 athletes which was released by the Athletics Federation of Nigeria as she awaits the decision of the AIU.
Tobi Amusan is in line to defend her World 100-metre hurdle title in Budapest as she has been officially listed by World Athletics on the entry list.
However, the world champion will get the final nod to compete if she eventually wins her appeal on allegations of missing drug tests.
Amusan has vowed to challenge and resolve the charges against her before the championship.
She said she is a clean athlete and regularly tested by the AIU.
If successful with her appeal, the world record holder will defend her title in Budapest.
Last month, Amusan announced on her Instagram handle: "Today the Athletics Integrity Unit (AIU) has charged me with an alleged rule violation for having 3 missed tests in 12 months.
"I am a CLEAN athlete, and I am regularly (maybe more than usual) tested by the AIU," she wrote, referencing the Athletics Integrity Unit, which oversees doping issues in international track and is the agency that charged her with the violation.
She said, "Today the Athletics Integrity Unit (AIU) has charged me with an alleged rule violation for having 3 missed tests in 12 months.
"I intend to fight this charge and will have my case decided by a tribunal of 3 arbitrators before the start of next month's World Championships."
Amusan enjoyed a superb run of form and set the current world record for the women's 100m hurdles of 12.12 seconds at last year's World Athletics Championships in Oregon and a World title that followed in a record time of 12.06, but that time did not go into the record books because there was too strong a tailwind.
She also retained her Commonwealth Games title with a new Games' record of 12.30s and defended her Diamond League title in a record-breaking season that saw her set impressive records and win the Nigerian, African, Commonwealth, World, and Diamond League titles.