WPF tasks INEC to return Binani's mandate as governor of Adamawa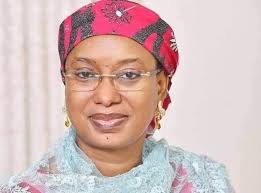 The Women in Politics Forum(WPF) a Nigerian non-partisan organisation for women has said Nigerian women will not fold their arms and allow history to repeat itself in the ongoing gubernatorial election in Adamawa State.
The WPF, which has a membership that spans across the 36 states and FCT, stated this in a press release made available to the press on Tuesday, March 21st.
The group said Nigerian women are aware that results from 20 local government areas in Adamawa state had been collated, giving the APC gubernatorial candidate, Senator Aishatu Binani, an early and consistent lead.
The WPF advised the Independent National Electoral Commision(INEC) to ensure the results are not manipulated and that Senator Binani be given her mandate and declared as the winner of the election.
The press release which was signed by the National President of the women forum, Ebere Ifendu, noted that there was great misconduct in the election results collation centre which it said was due to the refusal by the Resident Electoral Commissioner (REC), Hudu Yunusa, to collate governorship results from Fufore local government area.
Ifendu said, "We will not accept a repeat of history. In 2011, Her Excellency Dame Pauline Tallen contested for the Plateau State Governorship election and was cruising to Victory when announcing results suddenly stopped, and when it was finally announced, they had stolen her mandate. This was exactly the fate of Senator Aisha Al Hassan ( mama Taraba). Her victory was also stolen. We can no longer watch our collective mandate stolen from us.
"Nigerian Women have worked hard and waited patiently for this victory and woe betide that person that will be used against the wishes and aspirations of Adamawa people and Nigerian women.
"We can confirm from our agents in Adamawa State that Senator Aishatu Binani is having an overwhelming lead in Fufore Local Government.
"We are aware of the manipulation going on in the state and the role of Governor fintiri who had earlier used his state powers to frustrate Senator Binani's campaign and has further gone ahead to tamper with the figures coming from Fufore LGA;
"…which undoubtedly is Senator Binani's stronghold, and originally in favour of the APC candidate, and using the state INEC officials and media to fabricate stories and raise false allegations against her.
"This is a grossly condemnable act and we are raising our voices as Nigerian women to seek immediate intervention to prohibit and abort the manipulation against senator Binani as we see this as a daylight robbery of her mandate and an affront to Nigerian Women.
"Nigerian women are calling on INEC to ensure that the results are not manipulated and that Senator Aishatu Binani is given her mandate and declared the winner of the election.
"We are also using this medium to call on security agencies to be more effective in protecting the public against attacks by political thugs.
"We have received reports of violent attacks on innocent citizens of the state. We demand that the perpetrators of violence should be arrested and prosecuted while the police are more vigilant and proactive to prevent violence."