Atiku appeals to FG and CBN to extend January 31st deadline for old Naira notes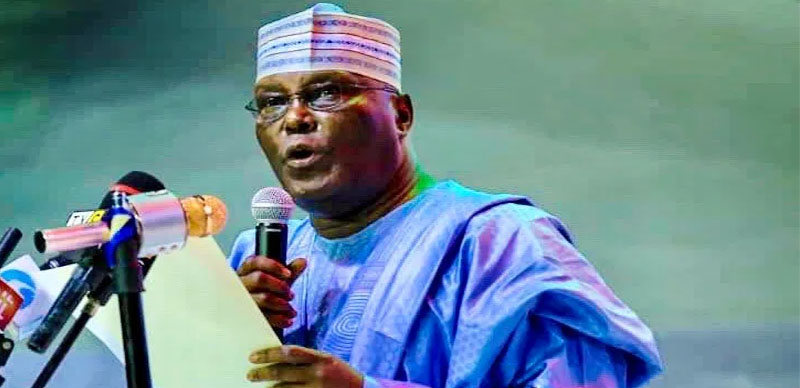 The Presidential candidate of the Peoples Democratic Party(PDP), Atiku Abubakar has joined Nigerians to call for the Federal Government to prevail on the Governor of the Central Bank of Nigeria(CBN), Godwin Emeifele, to extend the January 31st deadline for the swap of old Naira notes for the newly redesigned ones
Atiku appealed to the Federal Government and the CBN to reconsider the deadline to ease the suffering of ordinary Nigerians who are having a difficult time trying to exchange old currencies for newly redesigned ones.
The PDP candidate made the appeal in a video posted on his verified Twitter handle @atiku, on Saturday, January 28th.
He said, "The ongoing policy by the Central Bank of Nigeria to redesign the Naira has generated wide reactions across the country and beyond.
"This exercise is a world wide practice and therefore not anything new especially as the January 31st deadline draws closer, a great number of Nigerians out of good conscience, have expressed apprehension about how the policy deadline will make life more difficult for Nigerians.
"The large number of unbanked Nigerians who do their business especially in rural areas will find it difficult almost impossible to meet up with the January 31st deadline to exchange their old bank notes with the redesigned currencies."
He further said, "I'm aware of the challenges farmers and other artisans face with moving money to commercial banks for the conversion.
"On this note, I'm compelled to align my position with the upsurge of demands for a small extension of the monetary conversion policy. The January 31st deadline is certainly going to cause heavy discomfort for our people."
The PDP candidate explained that his appeal was hinged on the fact that he knows that the intention of the monetary policy was not to hurt the poor.
Under the CBN policy, old versions of N200, N500 and N1,000 Naira denominations will cease to be legal tender in Nigeria. Chaotic scenes were recorded at various Automated Teller Machines in various banks across Abuja.
Such scenes were recorded at the IBTC Bank, the UBA and GTBanks ATMs with residents rushing to make cash withdrawals to beat the deadline.