Budget:Humanitarian minister says N206 billion was inserted to purchase military equipment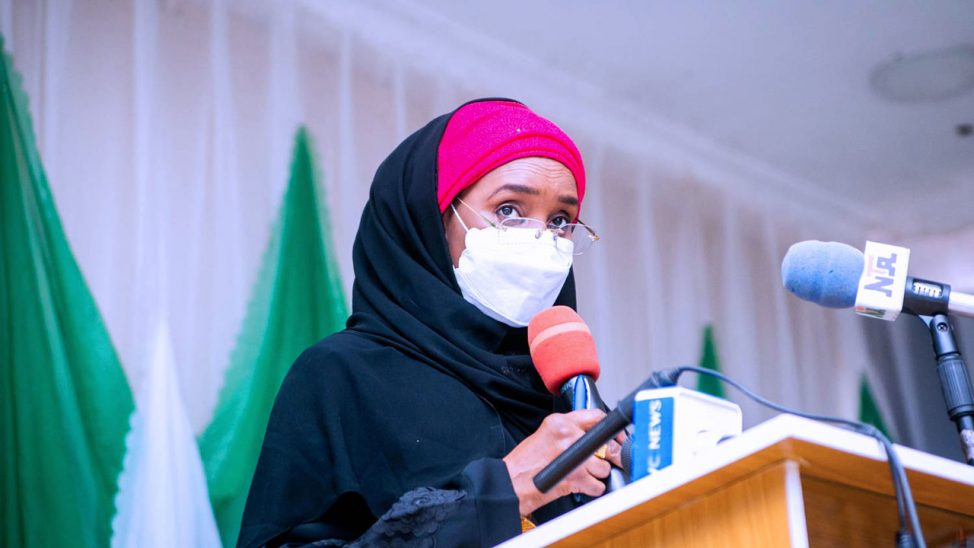 The Minister of Humanitarian Affairs, Disaster Management and Social Development, Sadiya Umar-Farouq,informed senators that the N206 Billion inserted in her ministry's budget was meant for the purchase of military equipment.
Umar-Farouq, who had earlier denied any knowledge of what the money was meant for,saying it was allegedly 'inserted' by the Ministry of Finance, came out on Thursday,December 1st, to announce what the money was meant for.
Lawmakers had requested the two ministers to step forward and clear the air on the controversial amount which seemed to have appeared from nowhere. However, while the Humanitarian Minister appeared with her Permanent Secretary, her Finance counterpart failed to show up.
Umar-Farouq spoke when she appeared before the Senate Committee on Special Duties, chaired by Senator Yusuf Yusuf (APC, Taraba Central). At the resumed budget defence, when she was questioned for further clarification on the matter, Umar-Farouq said: "On the N206 billion, when we saw it, we didn't understand what it was meant for because the explanation wasn't clear.
"If you put N206 billion in the Humanitarian Affairs Ministry's budget and the narration is about the purchase of military equipment, definitely something is wrong.
"That's why I said I'm not going to say anything about it until we get clarification from the Ministry of Finance. If we had requested N206 billion for a different project and then in the appropriation bill, it is reading something else, we will not own it."
When probed further by the lawmakers on whether she had requested N206 billion for another project, but it arrived with another narration, she said: "It is not exactly that way, and that's why we need that clarity from the Finance Ministry".
But Minister of Finance, Zainab Ahmed, had, on Wednesday,November 30th,cleared the air on the allegation. In a meeting with the House of Representatives Committee on Appropriation, which invited her, alongside Director General of the Budget Office, Ben Akabueze, and Umar Farouq, Ahmed said there was a wrong coding of projects.