Buhari says peace brings development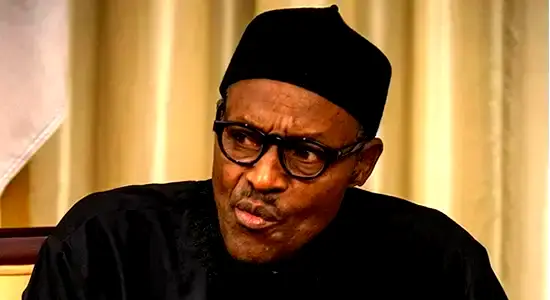 On Thursday, January 19th, President Muhammadu Buhari said there could be no development in the country without peace, as both complement each other.
He said this at the Presidential Villa, Abuja, while addressing the Director General of Arab Bank for Economic Development, Dr Sid Ould Tah.
The President, who on Tuesday, January 17th, in Nouakchott, Mauritania, received an award for strengthening of peace in Africa from the Abu Dhabi Peace Forum, said the work of the Arab Bank for Economic Development "is very critical, and, indeed, a major catalyst and tool for achieving our overall objective as leaders on the continent."
Praising the bank for its investment in Nigeria, Buhari pointed at the strides that had been made in the agricultural sector regarding food security systems, capacity building, and integrated infrastructure projects.
He said the key focus of the current administration had been security, economy, and anti-corruption, noting that they were critical "towards achieving our overall development objective not just as a country, but more importantly as a continent."
President Buhari observed that the issues affecting one nation could also affect others, adding that this had been clearly demonstrated in the fight against the tyranny of terrorists that had spread across the entire West African, and beginning to emerge in sister countries in some parts of East and Central Africa.
The President was appreciated for ensuring improvement of security in the North East. "We now get grants for livestock farming, gum Arabic production, infrastructure, and I believe Nigeria will still have more opportunities from the Arab Bank for Economic Development," the people said.
Dr Ould Tah congratulated President Buhari for his award on peace strengthening, saying it was a testimony to his efforts in promoting amity in Nigeria and Africa.
He said the bank had a strong relationship with Nigeria, and would love to continue doing more in the areas of wheat cultivation, gum Arabic, veterinary support services, women and youth development, among others.