Bwala sues APC for N120m unpaid legal fee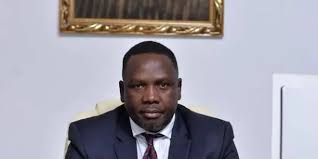 A lawyer currently for the People's Democratic Party(PDP), Daniel Bwala, has filed a lawsuit against the ruling All Progressives Congress(APC) over an alleged unpaid N120m legal fees.
The suit which was marked CV/2009/2023, was filed before the Federal Capital Territory(FCT) High Court, Abuja, the National Chairman of the APC, Abdullahi Adamu, was also joined as a defendant.
Bwala, who currently serves as a spokesperson for the PDP Presidential Campaign Council(PCC), was formerly in the APC but left the party after the ruling party decided to fly a Muslim-Muslim presidential ticket.
In the suit, he claimed that the N120m unpaid legal fees "accrued from legal services rendered to the party, which the party leadership is yet to offset."
Bwala and his law firm, Crystal Chambers, appealed to the court to give an order compelling the APC and Adamu to pay them the N120m legal fee.
A separate N25m as the cost of the suit is being demanded.
They want the court to compel the defendants to pay the alleged debt with 10 percent interest.
In his statement of claims, released to the press, Bwala said, "the claimant took steps to file all court processes, appeared in all the cases, both within and outside jurisdiction (Abuja, Osun State, Cross River State, Kaduna State, Benue State and Ondo State) and prosecuted the cases diligently to their logical conclusion.
"The claimant sent progress reports to the defendants on every occasion any of the matters came up in court."
He claimed that his professional fee for the nine concluded cases was N135m but that the defendants had only so far "paid the sum of N15m, leaving the sum of N120m as outstanding."
The papers further showed that the claimant's law firm wrote the defendants, informing them of the conclusion of the nine cases, and demanded the full and final payment of N120m as their professional fees.
Bwala, while speaking with news correspondents, said he believed that the failure to pay his professional fees might not be unconnected with his decision to dump the APC for the PDP, which appointed him as the spokesman for the campaign council.
He added that all efforts made to get full payment for his services had yielded no result.
Bwala threatened that if the fees were not paid, he would be left with no option but to add the President-elect, Bola Tinubu, as a defendant in the suit to compel the party to pay him.