Coach Waldrum says Super Falcons still have hope despite loss to England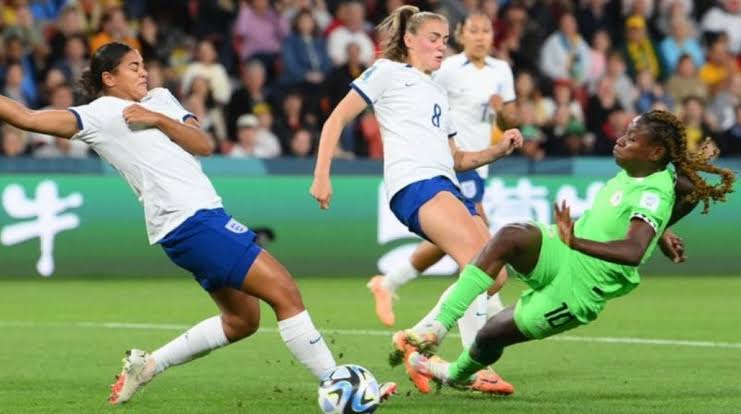 Super Falcon's coach, Randy Waldrum, has expressed optimism that the team has a bright future despite their departure from the 2023 Women's World Cup in Australia and New Zealand following their loss to England.
On Monday the Super Falcons crashed out of the tournament after losing to the Three Lionesses of England in their Round of 16 match at the Brisbane Stadium in Queensland Australia on Monday.
They both played out a goalless draw during regulation time and with the game proceeding into extra time, Lauren James received a red card for a needless stamp on Michelle Alozie.
Despite England being one player down, the European nation held on for the whole duration of extra time after which they defeated Nigeria 4-2 during the penalty shootout.
Waldrum speaking at the post-match press said the Super Falcons' impressive performance at the Women's World Cup had made the football world sit up and take notice.
The American also said that Nigeria who came into the tournament ranked 40th in the world had done both their country and the continent of Africa proud.
"They've been fantastic the whole tournament. I said to them after the game we have not lost a game realistically (outside the penalty shootout)," Waldrum said.
"I am so proud of them, they have such a bright future, and the players came together unbelievably. They just played their hearts out and I couldn't be more proud of them.
"We can be and should be one of the top teams in the world. I think we have shown that we are capable of playing with anybody.
"We have played against the Olympic gold medallists (Canada), the European champions (England) and we kept a clean sheet in both of those games.
"We played the host nation (Australia) and Ireland, who are in the top 20, and we didn't lose. I hope what we have done is show the rest of the world that football in Africa is relevant.
"I hope people have seen that there is talent there and that we have the ability, and with a little structure and a little organization, and a commitment to provide the resources that we need, hopefully, people see that we can be a major player on the world stage," he added.
Waldrum said the most important thing was for Nigeria not to lose the momentum they have developed at this year's Women's World Cup in Australia.
"We don't want to take the success and now not continue to move forward when we get back to Nigeria," he said.