Seyi Jakande implores Sanwo-Olu to rename LASU after his father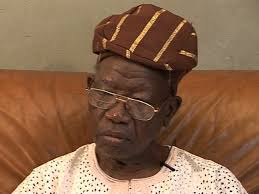 Seyi Jakande has appealed to Governor Babajide Sanwo-Olu to name the Lagos State University(LASU) after his father, Lateef Jakande the first civilian governor of the state.
Seyi in the company of his mother, Abimbola Jakande at the first memorial held for his father by the Nigerian Guild of Editors(NGE), said that his father had been reluctant to serve under the late General Sani Abacha, but for MKO Abiola, the presumed winner of the annulled June 12, 1993, presidential election, who prevailed on him to do so.
He, however, implored Sanwo-Olu to review the proposal which had been made to him by the former Vice Chancellor of LASU, Prof Lateef Fagboun, who gave the Lagos state governor a proposal to rename the university after him (Jakande) during the celebration of his 90th birthday in 2019, but it was not accepted.
Seyi said: "In 2019 when Baba was celebrating his 90th birthday, the Vice Chancellor of LASU came up with a proposal that the university be renamed after my father.
"Let me thank Mr. Governor for establishing LKJ Leadership Academy after my father, but I also want to appeal to Mr. Governor to reconsider renaming LASU after him.
"Two of his colleagues then, Prof Ambrose Ali of the old Bendel State and Bisi Onabanjo of Ogun State, came to my father in Lagos to understudy how LASU was founded.
"My father then instructed Prof Femi Agbalajobi to put them through. Today, both universities have been renamed after the founders.
"Bendel State University is now Ambrose Ali University, while Ogun State University has changed to Olabisi Onabanjo University to reflect the names of the founders.
"What is good for the goose is good for the gander," he said.