Erling Haaland bags 'Player of the Season' award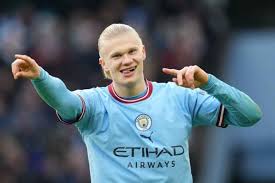 Manchester City striker,Erling Haaland, has bagged the prestigious Premier League Player of the Season award following a remarkable, goal-filled season.
It had earlier been reported that the striker was jostling for the spot alongside teammate Kevin De Bruyne, and Arsenal's Bukola Saka, Harry Kane and others, who were nominated for the award.
Haaland, clinched the top spot with 36 goals in the Premier League this season which gave him the edge to emerge as the winner despite the stiff race for the award.
He is now the fourth player to win the Man City Player of the Year award, following Kevin De Bruyne, who won the award in 2019/20 and 2021/22, Ruben Dias, who won it in 2020/21, and Vincent Kompany, who was the first to win it in 2011/12.
He emerged as the winner of the award through a combination of public votes, the votes of the 20 club captains, and the opinions of a panel of football experts.
Haaland beat seven other nominees, including De Bruyne, Kane, Martin Odegaard, Marcus Rashford, Bukayo Saka, and Kieran Trippier.