Ex-Defence Minister, 5 others urge Min. Of Justice to stop plot against Emefiele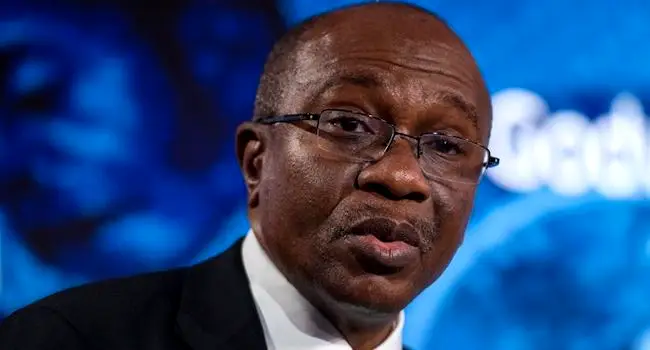 A former Minister of Defence, Chief Adetokunbo Kayode, Senior Advocate of Nigeria(SAN), and five other SANs, have petitioned the Attorney-General(AG) of the Federation and Minister of Justice, Mr. Abubakar Malami, SAN, to condemn what they call a plot which is directed at framing and arresting the Governor of Central Bank of Nigeria(CBN), Mr. Godwin Emefiele.
Kayode, who had once served as a Minister of Justice, along with the other SANs, in their petition, said they had been observing the moves by the Department of State Service(DSS) which were trying to sidetrack the rule of law and disobey court decisions by unduly interfering with fundamental rights of the CBN governor.
Other SANs that signed the petition include a former Secretary-General of the Nigerian Bar Association(NBA), Dr. Emeka Obegolu, Mr. Oba Maduabuchi, Mr. Emeka Ozoani, Mr. M. Nurudeen and Abdul Mohammed.
The letter urged the AGF to swing into action and use his good office to guarantee and ensure that the government, especially security agencies, observe the rule of law as the foundation of every democratic society, by complying with court decisions.
The letter read: "We are pleased to present our respect and best wishes to you. We are certain that you have followed with keen interest the events of the last few weeks which climaxed with the dismissal by the Chief Judge of the Federal High Court of the application of the DSS to arrest and detain CBN governor, Emefiele under the Terrorism Finance Laws, etc., pursuant to unsubstantiated allegations of terrorism financing and other economic crimes with national security implications.
"We also note the judgement of the High Court of the FCT, Justice Hassan, which in the main, pronounced on and validated the fundamental rights of Emefiele. Despite these two categorical judicial decisions, we observe moves to still proceed and sidetrack and disobey the court decisions and unduly and unlawfully interfere with Emefiele's fundamental! rights.
"In this circumstance, we wish to urge the AGF to use his good offices to guarantee and ensure that the government, especially the security agencies, observe the rule of law as a foundation of a democratic society by complying with court decisions.
"The court, as the last hope of the citizen, has made a pronouncement on the legal rights and obligations of citizen Godwin Emefiele, it behoves on all agencies of government to obey the order of the court, until such order is set aside by an appellate court.
"The constitutional role of the judiciary as the third arm of government includes serving as a bulwark against oppression and intimidation."