Fubara debunks reports of disqualification, says he remains Rivers PDP gov. candidate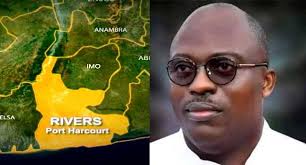 The Rivers State governorship candidate of the Peoples Democratic Party(PDP), Siminialayi Fubara, debunked reports that he was disqualified as the party's standard bearer for the forthcoming election in the state.
He said he remained the chosen candidate of the party and expressed optimism that he would win the rescheduled election next Saturday.
Fubara made this statement at a town hall with the directorate of intergovernmental relations, directorate of non-governmental organisations, and political pressure groups organised by the state PDP campaign council in Port Harcourt.
Before the town hall, social media was awash with reports that the Supreme Court had disqualified Fubara as the Rivers PDP candidate.
But Fubara while dismissing the report, said, "Today, I believe is a very special day because a lot of you have been longing to see me. In fact, the anchor here in one of the debates was hammering how I ran away and that I don't want to attend a debate.
"But you are seeing me today here. By the grace of God, I am the candidate, not outside the social media rumour. I am still the candidate of the PDP and by the special grace of God, we will be running for the election in that capacity in the coming election.
"And with your support, I am also very sure that victory is already assured."
Fubara said if elected as governor in the election, he would ensure economic growth in the state.
He added, "We will also ensure that every child has access to basic education across the state by tackling the out-of-school and drop-out syndrome in our communities."
"We will also coordinate economic incentives to attract investors and industrial growth that will create jobs for the vulnerable population and reduce the attraction to criminal behaviour."
Some of the participants that spoke at the meeting, urged the PDP gubernatorial candidate to revamp the health sector in the state and also address other issues that were causing concerns.