Obi declares war on power if elected in February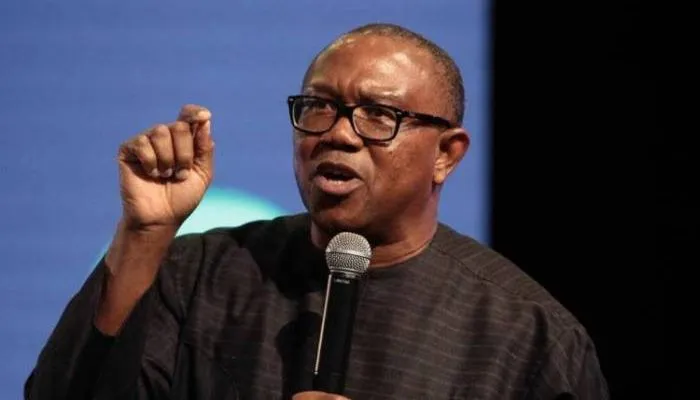 The presidential candidate of the Labour Party(LP), Peter Obi, has declared war on the power sector if elected president in the forthcoming February election.
Obi said this on Monday, January 16th, while speaking at the Chatham House in the United Kingdom(UK).
He said, "You have heard them say we don't have structure, that structure is the one that has dismantled Nigeria. We will destroy that structure of criminality, I assure you of it.
"We're going to turn around the power sector. Nigeria today generates 56,000 megawatts for 200 million people and South Africa, the second biggest in terms of economy on the continent, 60 million people, generates over 40,000 megawatts, yet, they have declared an emergency in the power sector.
"I have said that anyone can generate up to 100,000 megawatts with our licence.
"If a country with 60 million population generating over 40,000MW is declaring an emergency on power, what do you think somebody with two million people generating 5,000 to 6,000MW will do? War!
"I am going to declare war on power and I will solve it. Anybody who stands on the way, so be it."
While fielding questions on how he (Obi) intends to go about reviving Nigeria to make the country attractive and inviting to foreign investors, the LP candidate pointed out that putting regulations in place will make investment more conducive and will also go a long way to resolve the challenge.
He said, "Bringing back foreign investment is very simple. Foreign investor (relationship) is like bees and honey, all you need to do is create honey and bees will be all over the place.
"Foreign capital is scared of corruption, is scared of board policies, is scared of where there's no rule of law. You need to put a regulatory environment that makes it conducive, you need to secure it. That is at the heart of what Datti and I are offering.
"We will be that intangible asset of securing the country, making sure we govern through rule of law. We will fight corruption."
Hailing the integrity of his running mate, Datti Baba-Ahmed, Obi continued, "Datti has a record as the only National Assembly member who refused to buy property off the government when it was offered to every National Assembly member.
"You can go and look at his record if you see anywhere he has compromised or put himself in a transactional position and I will stop running.
"I know how I approached him and I told him 'I and you owe it to save our people'. That's why we came together and we agreed to work as a team to solve this problem."