Ogun APC alleges Amosun is becoming politically obscure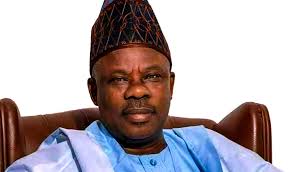 The ruling All Progressives Congress(APC) in Ogun State has alleged that former governor of the state, Ibikunle Amosun, has been engaging in anti-party activities and is disloyal.
The party made the accusation in a statement circulated on Thursday, March 16th, by its Publicity Secretary, Tunde Oladunjoye, titled,'Senator Amosun is better ignored as he is going into political oblivion and perdition'.
The statement read in part, "We do not wish to take any issue with the man famous for disloyalty and boastful egoism but we just have to explain to persistent inquiry and demands for sanction against the controversial senator.
"If we may ask, what bigger shame and disgrace could face a man who, as a sitting governor and APC senator-elect, was suspended from the party? That was, perhaps, the first time such would happen in the annals of Nigerian politics.
"The party felt he had repented and that was why the suspension was later lifted. However, from all indications, the leopard will never change its spots. The dog has gone back to its vomit.
"But for the endurance of Ogun people generally, particularly people of Yewa, Amosun will not be strutting the streets of Ogun State state pretending to be a friend of Yewa and purportedly clamouring for an Ogun West governor, whereas he is actually planning to install a stooge to achieve his well-known third term ambition.
"Amosun marginalised Ogun West more than any government in history. One of the foremost leaders of Yewa, Prof. Emeritus Anthony Asiwaju, in his book published in 2018, described Amosun as a governor whose tenure, far more than any other, witnessed the emergence of Yewaland as the historic zone in the state known for abandoned projects. Amosun also abandoned more projects in Ogun Central than any government in history even as he shunned Ogun East in the execution of projects.
"While we appreciate the concern raised by genuinely worried people, we urge the good people of Ogun State to remain steadfast in their support for Prince Dapo Abiodun for second term in office based on his unparalleled performance in his first tenure, while ignoring Amosun-the puppeteer and his puppets."
The former governor is yet to make a reaction to the accusations contained in the statement released by the APC.