Osoba pleads with Igbos not to make Lagos gubernatorial election ethnic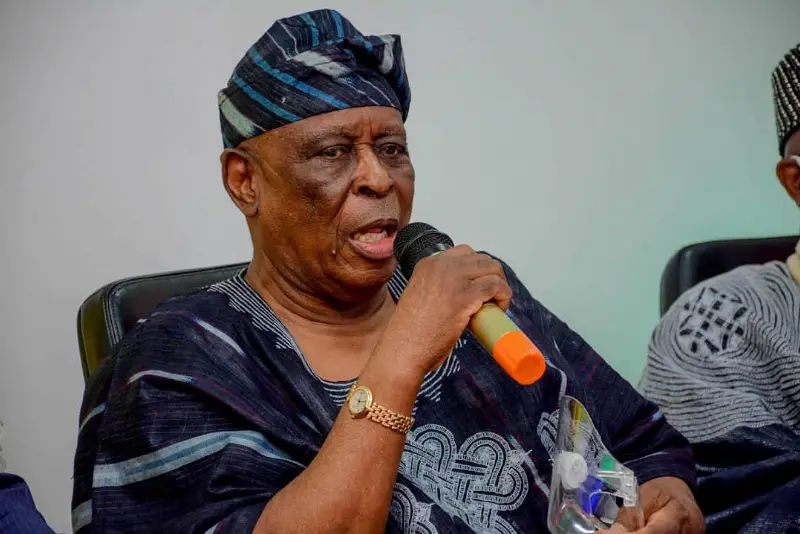 Former governor of Ogun State, Olusegun Osoba, has made an appeal to the people of Igbo extraction resident in Lagos State not to turn the approaching state's governorship election to "an ethnic issue".
He urged the Igbo while speaking in an interview with TVC on Monday, March 6th.
The former governor warned Lagos residents that making the state election ethnic and tribal based could be "destructive".
Osoba, who described Lagos as the "most liberal state in this country," urged Igbo brothers and sisters in Lagos to sustain the cordial relationship they have been sharing.
He said, "I appeal to my Igbo brothers and sisters, don't let us make this an ethnic issue. Anywhere in the world where ethnicity has become an issue, it becomes destructive," the former governor said.
"I will plead that the youth, our religious people, and our Igbo brothers and sisters in Lagos should think of the past. Nnamdi Azikwe, the father figure of Igbo land… all his political life was in Lagos.
"The first Igbo lawyer, Sir Louis Mbanefo, went to Methodist Boys High School and King's College; he had his education in Lagos.
"We have been working together. Let us sustain the relationship. Lagos is the most liberal state in this country. Lagos has given so much to all of us, let us pay back by showing gratitude to a governor who I believe has done his best," he said.
The ethnic battle in Lagos began when Peter Obi, candidate of the Labour Party (LP), defeated Asiwaju Bola Tinubu of the ruling All Progressives Congress (APC) in Lagos during the presidential election, there has been intense heat of ethnic nationalism, which has increased between some of the state's Yoruba and Igbo residents.
The trend has been heated up on Social media with ethnic slurs as residents count down to the March 11 governorship election.
Babajide Sanwo-Olu, governor of Lagos and APC candidate, and Gbadebo Rhodes-Vivour, the governorship candidate of the Labour Party (LP), are the two frontline candidates, who have been dragged into the web of the ethnic sentiments.