Presidential election tribunal begins pre-hearing on May 8th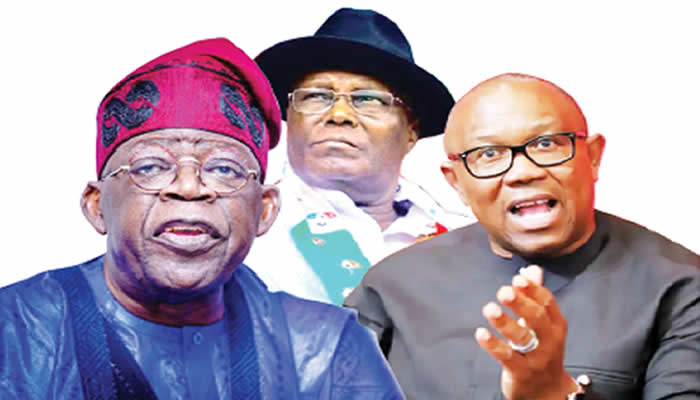 The Presidential Election Petitions Tribunal Abuja will begin pre-hearing on Monday, May 8th, in the petitions challenging the outcome of the February 25th presidential election.
The Independent National Electoral Commission(INEC) declared Bola Tinubu of the ruling All Progressives Congress(APC) the winner of the election, saying that he polled 8,794,726 votes to win the election.
The commission declared that Atiku of the People's Democratic Party(PDP) came second with 6,984,520 votes, while it announced Labour Party's(LP) Peter Obi as the second runner-up with 6,101,533 votes.
Atiku, Obi and some other parties rejected the results announced by INEC and had approached the Presidential Election Petition Tribunal to annul Tinubu's victory.
Last week the PUNCH had reported that the tribunal would begin pre-hearing today.
On what to expect at today's proceedings, a senior lawyer in Tinubu's camp, who asked not to be named, told news correspondents on Sunday that, "The only thing they will do is to schedule the hearing, the number of witnesses, how many minutes the witness will use, and how to admit the documents; that's what they call pre-trial.
"They are going to prepare a timetable for the hearing of the cases, the number of days to be spent by the petitioners, the number of days to be spent by the respondents, how do we take in the documents, certified true copy of the documents, are they going to be admitted like that or if there is an objection, how do we raise an objection to document?
"Will the court write a ruling on objection immediately or will the court write it in the cause of the main judgement? Those are the things that will happen tomorrow (Monday)."
Atiku, in his 66-page petition, is praying the tribunal to declare him winner of the poll or order a fresh election.
On his part, Obi, in his petition, is also praying the tribunal to nullify Tinubu's election.