US-based Anita Brown alleges Davido impregnated her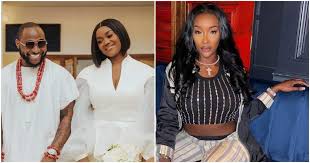 Nigerian singer, Davido Adeleke, popularly known as Davido, has reportedly impregnated a United States businesswoman, Anita Brown.
Davido has become the topic on most social media platforms as he has refused to acknowledge the pregnancy.
Anita, who first came to public knowledge on Sunday with claims of being in a relationship and pregnant with the singer's child, resurfaced a few hours ago with receipts to prove her claims.
The businesswoman has released multiple screenshots of chats between herself and Davido's cousin, Clarks Adeleke, and the award-winning singer himself, slamming claims that she was in a one-night stand situation with the Afrobeats musician.
Anita, in her social media outburst, stated that she first met the singer in 2017 while in Dubai and that they dated on and off until the pandemic when she was in a 'long' relationship.
She released screenshots of chats between her and the 'Assurance' crooner, who not only affirmed having unprotected sex with her but also chats where he asked her to handle the pregnancy like other girls in the past have to help lighten his problems.
Her receipts also show conversations between her and Clarks, who promised to advise Davido on taking responsibility for the child upon its arrival.
Anita continued addressing trolls who have called her all sorts of unprintable names, saying she never knew that the singer is married, as nothing about him or his social media platforms implied this.
Recall, Davido tied the knot with his longtime girlfriend, Chioma Rowland, in January 2023. Their marriage came barely months after the loss of their son, Ifeanyi, who drowned in the family pool in their Banana Island home.
Social media users have since taken to different platforms to share their thoughts on this latest development.
Davido has remained mum over the issue.