INEC reveals it'll train 1.4m ad hoc staff on BVAS usage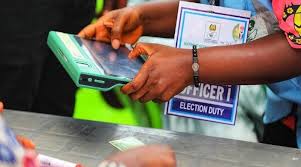 The Independent National Electoral Commission(INEC) has said that more than 1.4 million ad hoc staff will be trained on the effective usage of the Bimodal Voter Registration Systems (BVAS) for the 2023 general elections in Nigeria.
INEC National Commissioner, Festus Okoye, disclosed during an interview on Channels TV's show tagged, "2022 In Retrospect, an End-Of-Year special."
In addition, the Commission revealed that it had sufficient BVAS to conduct elections in the 176,846 polling units nationwide.
He said, "We want to train our ad hoc staff longer so that we won't have people not knowing how to use the BVAS and blaming it on technology and so on.
"The BVAS, which we said will be the game-changer in relation to this election, is in place. And I want to confirm that we have a sufficient number of BVAS that will be used in the conduct of elections in the 176,846 polling units across this country,"
"We are also harvesting the names and details of those that will serve as our adhoc staff. For the two elections, the national and state elections, we are going to engage over 1.4 million adhoc staff and we are going to train them," he said.
Okoye further explained the processes and procedures of the commission are going well as planned and Nigerians should expect a very good election in 2023.
"People of this country should expect that INEC will conduct a very good election. Conducting a very good election in terms of the fact that we started preparations for the 2023 general elections immediately we finished with the 2019 general election.
"As of today, our processes and procedures are going well as planned."
Okoye said that it was expected that by December 30th, 2022, political parties were supposed to have submitted the names, signatures and personal particulars of their polling agents in relation to national election.
On January 6th, 2023, they are supposed to submit the names, the signatures, photographs and particulars of their agents on state elections, he said.
The INEC commissioner also said on January 12th, 2023, INEC will release the official list of voters noting that "all these things are going as planned and they are going to be accomplished on schedule."