Ministry of Trade announces Nigeria will host Intra-Africa Trade fair in 2025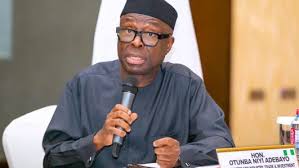 The fourth edition of the Intra-Africa Trade Fair will be hosted by Nigeria in 2025, after being selected.
The Intra-African trade is a unique and valuable platform for businesses to access an integrated African market of over 1.3 billion people with a Gross Domestic Product of over US$3.5 trillion created under the African Continental Free Trade Area.
Nigeria's selection was revealed by the Minister of Trade and Investment, Niyi Adebayo, at the groundbreaking ceremony of the Abuja Chamber of Commerce and Industry Ultra-Modern Shopping Centre sited on 10 hectares of land along Airport Road, Abuja.
He said the country's request was granted following a successful submission of a bid to host the event, where African buyers and sellers meet to explore business opportunities.
He said, "I am happy to inform you that Nigeria has been selected to possibly host the fourth Intra-Africa Trade 2025, following a successful bid to host the event."
Speaking about the project, the minister represented by the Director of Trade, Suleiman Audu, said the shopping centre was timely as it would boost economic growth and development in Nigeria.
According to him, the project is expected to promote business activities in the Federal Capital Territory.
"The establishment of the ACCI shopping centre will complement the government's effort in boosting Nigeria's image and is expected to be a hub for all kinds of businesses, a platform for business networking, in line with the AfCFTA agenda.
"Buying and selling, the exchange of goods and services, always generate the momentum that results in more economic growth and this project is designed to accomplish the chamber's goal of promoting the growth and development of businesses in the FCT and supporting the private sector in maintaining sustainable progress and prosperity in commercial activities in Nigeria."
The minister further called for more public-private sector collaboration toward repositioning the nation's economy.