Akinnola warns incoming government to uphold press freedom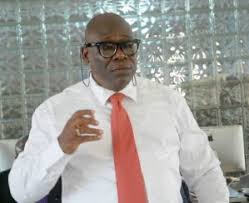 Richard Akinnola has reacted following the Nigerian Broadcasting Commission (NBC) fining of Channels Television for the sum of N5m over utterances credited to the Vice Presidential candidate of the Labour Party (LP), Datti Ahmed.
Akinnola is a foremost journalist, lawyer and human rights activist who has cautioned the spokesperson of the President-Elect, Bayo Onanuga against plunging the country into chaos and gagging the press.
The fine to Channels TV was as a result of a petition written by Onanuga to NBC.
In an open letter to Onanuga which he posted on his facebook handle "Richard Akinnola II" , he expressed shock over Onanuga's actions despite being a victim of suppression of the press during military governments in Nigeria.
Part of the letter reads "You and l have been friends for several years, fought many battles together against the military, particularly against their onslaught on the free press. I, therefore, feel terribly pained that l have to publicly upbraid you for your recent public statements, particularly your petition against CHANNELS tv, to the National Broadcasting Commission (NBC). I'm still trying to wrap my head around your sudden 360 degrees against all you fought for under the military. You are yet to be in government and you have started exhibiting intolerance against the independent media, the same thing you fought for all your years. I'm sure your principal, who has been a lover of a free press, would be embarrassed by your position."
He said Onanuga was unfair to the anchor of the TV interview who he said cautioned Ahmed about his utterances during the interview.
He said "For eight years, despite all vitriolic attacks on the president, Femi Adesina, as Special Adviser, Media to the president, did not petition against any medium but you wey never enter, don dey censor the media. Do l subscribe to unfettered press freedom? No. I believe every freedom comes with responsibility. However, when you create a perception that the incoming government would be intolerant of the free press, we need to sound the alarm bell.
"Take notice that we would fight this your planned "insurrection" against the independent media the way we, including you, fought Abacha's dictatorship against the media."