Super Falcons ranked 10th in recently concluded FIFA WWC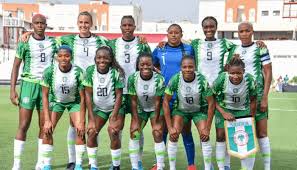 The Super Falcons of Nigeria have made a remarkable statement in their 2023 FIFA Women's World Cup outing as they finished in 10th-place.
In the recently ended FIFA WWC, the 9-time African champions were ranked ahead of football giants such as Germany, Brazil, Italy, Canada, Portugal, and Argentina.
The Super Falcon team which was led by Randy Waldrum was the highest-ranked team from the continent ahead of Morocco, South Africa, and Zambia.
The nine-time African champions were unbeaten in the group stage finishing second behind co-hosts Australia.
Super Falcons of Nigeria crashed out of the 2023 Women's World Cup after losing 4-2 on penalties to the Lionesses of England in the Round of 16.
Falcons avoided defeat in all three group-stage matches for the first time in history, with a win and two draws.
An impressive Nigeria side forced Olympic champions Canada to a goalless draw in the opening match, won convincingly by stunning co-hosts Australia 3-2, and sealed a place in the next round after a goalless draw with debutants Republic of Ireland.
Following the conclusion of the tournament, FIFA ranked the participating teams based on their performance.
However, there's a twist in this ranking method: teams that were eliminated at the same stage are ranked based on the way they were knocked out.
The Super Falcons, according to the list provided by Fox Soccer, are ranked in 10th place.
The top 10 teams in the World Cup include Spain at one, England at two, Sweden at three, and Australia at four.
To complete the list of the best teams, Japan is fifth, France is sixth, the Netherlands is seventh, and Colombia is eighth.
The USA is ninth, and the Super Falcons of Nigeria complete the top 10.
Morocco is ranked 12th, reigning African champion South Africa is 16th, and Zambia is 25th.