Anita Brown: Davido's no longer my unborn child's father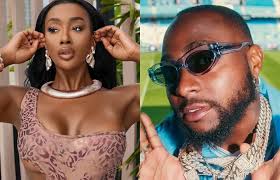 US-based businesswoman, Anita Brown, has revealed that her baby has a new father after initially accusing Afrobeat singer, Davido, of getting her pregnant.
Following the allegations she made against the 'Unavailable' crooner, Miss Brown has become popular in the Nigerian media. She also alleged that she was asked to terminate the pregnancy.
Since her initial revelation, Brown has managed to remain relevant, frequently dishing out tweets to stir waters that are looking to settle.
Recently, she tweeted: "I wish y'all would stop calling my phone
DAVIDO is not my child's father
We don't want him in my life or my child's life.
HE DIED!
Please get over it & move on
PLEASE!
Leave us alone."
In another post, she revealed that her unborn child has gotten another father.
She tweeted, "Y'all are delusional
WE DON'T CARE FOR DAVIDO
I'M IN THE UNITED STATES
I'M TOP 5
It's annoying now
Nobody wants to hear about David
This is old news
My baby got a new dad already."
In yet another post, she tweeted:
"Yo @davido tell your wack ass fans
I don't give a FCK about you bro
This is annoying
You gave out my number
It's annoying cause I don't care for you
This shit is Irrelevant
We both know my body
Idc about nothing having to do with you"
Davido has yet to directly address the allegations as he has kept mum since Miss Brown took to the internet to accuse him.